Now that Marriott's well-publicized modular design + construction initiative is well underway, over the next decade this building delivery method looks poised to make its mark in North America.
Starting with the 97-room Folsom Fairfield Inn & Suites (pictured above) in Folsom, California, Marriott has been opening an increasingly ambitious slate of modular hotels.
While other brands have been slow to follow suit, Marriott has announced plans to build dozens more over the next few years. Prompted by labor shortages and other factors, they began seriously studying modular options in 2014, seeking out firms that could manufacture spaces to their standards and then launching their pilot modular initiative the next year.
Marriott Fairfield Inn & Suites Modular Hotel in Fairfield, California.
We spoke with construction executives who shared their love for this method. They listed a range of substantial advantages -- as well as a few drawbacks -- of choosing prefab over onsite construction. Some drawbacks will disappear as the industry acclimates to this new technique. Both Carl Hren, Vice President Architecture and Construction for Concord Hospitality Enterprises, and Eric Handley, with Chicago-based William A. Randolph, have supervised Marriott Hotels modular design projects, with more on the horizon.
Hren is excited about a number of projects Concord has recently completed and has in development, including the recently completed AC by Marriott Hotel in Louisville, KY.
In July Concord will break ground in Manhattan on "the tallest modular hotel ever" -- the 25-story, 170 room AC Hotel in the NoMad district.
The Key Advantages
With a typical modular design project, guest rooms and bathrooms are built in climate controlled factories, often in rural areas hundreds of miles from the construction site. They're shipped to the construction site and stacked by crane atop the already existing base podium. Onsite workers complete the plumbing, electrical and other additional tasks to finish the job.
Hren and Handley are both boosters of this method, but agree that financially and logistically, only projects with certain parameters are ideal at this stage.
While Concord is embracing the advantages of modular design, Hren says about 80-90 percent of their current hospitality projects continue to be built onsite using conventional methods of construction. "It has to be the right fit for the right project," he stresses. The upside includes:
Lower labor costs,

specifically in urban settings with tight labor markets and higher pay grade--cities like New York, Chicago and Boston.
Much Shorter Schedules

. With hotel rooms and bathrooms built in factories offsite and delivered, the actual build time shrinks dramatically. "In many cases, we're going to save six months on the overall schedule," Hren says.
Reduces the Opportunity for Delays, Overruns or Weather-related disasters.

With tighter construction timelines that often cut months off a build, there's less opportunity for inclimate weather, labor disputes and other unplanned emergencies to delay construction. "It allows for a controlled work environment, which improves quality and takes certain aspects of inclement weather out of the construction process," Handley says.
He believes modular simplifies the process with fewer opportunities for disaster. "It does save time on the construction process and assists in the logistical issues with getting materials to a site, storing them and disposing of the waste," he says.
Amodular construction process for the Courtyard Pullman in Washington.
The (Current) Challenges
Handley lists a handful of challenges, many of which stem from unfamiliarity with the benefits. They include:
Fear of the Unknown. "The unfamiliarity of architects and consultants with modular systems is a concern," Hren says. "When subcontractors see a method of construction they're not familiar with, they add 20% to the price. However, once they've done a few modular projects, they realize it's easier. They say, 'That's it? I didn't know it would be this easy. I thought there would be more to it, and there wasn't.'"
The modular timeline. Though it saves time onsite, the timeline is weighted with more expenses up front, requiring early planning, design, and purchasing "which in turn accelerates the need for financing or capital at an early stage." In other words, banks are confused and initially frustrated because more of the total budget is needed early in the process.
Height Limitations. Hren adds that for buildings taller than four stories, woodframe modules (a more affordable option) aren't feasible; taller buildings require steel-stud modular units, which are much more expensive.
"However, when you're talking about building in Manhattan (or a similarly dense city), where the cost of construction is just astronomical, we believe building taller buildings using steel-stud modules is 'cost neutral' because of the overall schedule," Hren says.
In smaller cities and suburban sites, onsite construction of taller properties is still the best option, he adds. "For example, if you were doing a seven-story metal building outside downtown Charlotte, it wouldn't be cost effective."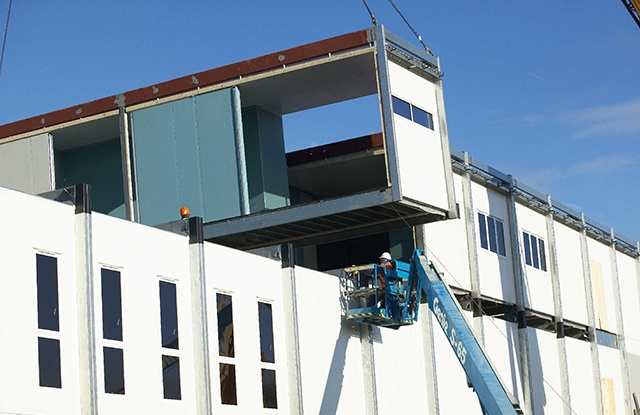 A Mod Future?
Developers will opt for modular design more frequently as all the parties involved (from banks to subcontractors) become more comfortable with the process.
"As that margin between modular and conventional costs comes down, you'll see more of it being done," says Hren. "I think the use of modular design is going to slowly increase over the next few years. "In five years or so, we'll start to see a difference. People are going to say 'holy cow,' a lot of projects are going modular."
---
---
"Designers, architects, structural engineers, and all the subcontractors need to get up to speed," Hren says, adding that banks are often reluctant to back modular projects because the budgets require more funding during the early stages of development.
"Once we do more of these projects, banks will see that the whole process works if you plan correctly," he adds, emphasizing that when other prominent hotel brands follow Marriott's lead, the modular trend will accelerate.
"Marriott is marketing modular design and helping to educate clients, but right now it's just them."
Hren continues, "Wood frame modular construction is more affordable, but if you build higher than four stories, you can't use it. However, with modular you save a ton of time. In the end we thought it was pretty cost neutral on our Louisville project."
Handley is also optimistic."I see the trend increasing over time where ultimately 50% of all hotels and similar multi-unit type construction is delivered in this manner, at least to some extent," he says.
---
Join us in Austin for HotelSpaces '19 to learn about the latest trends in hotel development, design and construction.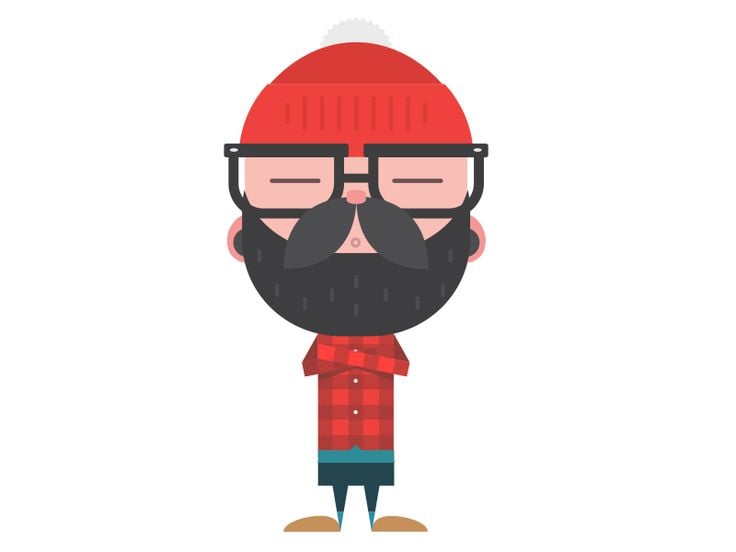 Posted by
Andy Smith is a veteran journalist and copywriter. Andy writes about hospitality, retail, senior living and higher education topics for influence group.
Join us at HotelSpaces!
A One of a Kind Retreat for Hotel Development, Design & Construction Leaders.
Oct 8-10,2023 | Frisco, TX
Learn More