A shift toward minimalist design and smaller guest rooms is paving the way for innovative hospitality brands to reduce square footage without converting rooms into walk-in closets.
The advantages to this trend are obvious, especially in urban markets where land is at a premium. Clever design is helping hotels trim 30-50% off room size and, in the process, add at least 30% more rooms without breaking new ground.
However, achieving these goals involves more than just cutting square feet. The brands that are embracing this trend and succeeding are calling on all the ingenuity their design teams can provide. We approached two innovators and asked them to share some trade secrets for creating the perfect smaller room. They are:
Alexandra Jaritz, global head of Tru by Hilton. Launched in 2016 with an emphasis on compact rooms complemented by larger lobbies and plentiful work spaces, Tru by Hiltons have opened properties in both large (Atlanta, Chicago) and smaller U.S. markets (Boise, Cheyenne).
Mike Suomi, principal and interior director of design at Stonehill Taylor, a NY-based hospitality-focused architecture and interior design firm. Stonehill Taylor's projects have Moxy Times Square, Ace Hotel New York, The St. Regis New York, The Camby Hotel, The Asbury Hotel, The Bryant, and The Whitby to name a few.
What Should Stay!
Before we share our list of expendable features, it's important to establish what must remain in place to meet guests' core demands.
"Guest room essentials include comfortable beds, natural light, in-room mobile desks, top-rated in-room entertainment, and large bathrooms with premium bath amenities," Jaritz said.
"Tru's designers opted for mini-fridges located in the landing zone, underneath the luggage rack. Within the space guests have, we're also focusing on what matters most to travelers and consistently delivering the basics: including an impressive in-room entertainment experience (i.e., large TVs with a premium channel lineup and fast internet), integrated and clearly visible access to lighting and power throughout the room, a comfortable platform bed, and spacious, airy, well-lit bathrooms with bulk amenities."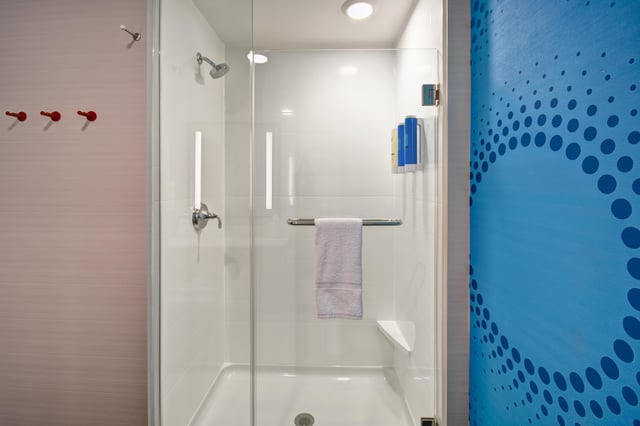 Tru by Hilton bathroom.
She added, "Feedback suggested guests would rather trade a microwave and have an in-room fridge instead. Additionally, the enhanced prototype includes a rolling desk for space-saving, mobile productivity."
Suomi asserted that a "less is more" approach is essential to shrinking room size up to 30% without sacrificing comfort. "There are several ways to do it. The easiest is also the simplest: do not over-furnish the room, and allow adequate space around a few key furniture spaces to give even smaller rooms the feeling of being spacious."
"Almost everything" can be eliminated, he explained. "It's hard to get rid of the bed, vanity, shower and toilet. Other than that, everything is really up for grabs. We've worked on rooms with little else, even looked at eliminating the television and telephones!"
What Can Go
With the essentials covered, Jaritz and Suomi chimed in with their suggestions for trimming fat while preserving comfort and aesthetics. We've narrowed the list down to seven ideas; most are physical space savers, others are design hacks that cultivate a feeling of roominess, even in the smallest rooms.
Cut the Closets. For Tru, "eliminating closets allowed the brand to focus on creating smaller, more efficiently designed rooms with space for everything you need and nothing you don't," Jaritz said. "Closets take up a significant amount of space and our research showed travelers don't always unpack, especially for shorter trips. So, by removing the closets in favor of open, functional areas for guests to put their suitcase and hang items, we could save space and also prevent guests from leaving things behind—which happens when they can't see all of their belongings."
Suomi agreed, adding, "The loss of the traditional closed closet in favor of a high-end, retail inspired, open wardrobe fixture helps to open up the feeling of a guest room."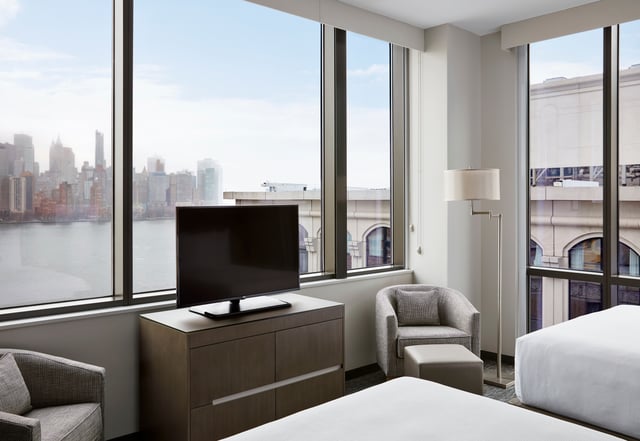 Hyatt House Jersey City, image courtesy of Stonehill Taylor.
Double Up. For the Moxy and other projects on which he's collaborated, Suomi believes finding two or even three uses for furniture is significant. Desks, for example, can double as nightstands. "The design of unique, multi-valent furniture pieces, which have more than one use, is key to small guest room projects such as Moxy branded hotels."
Optimize the Bed Space. Following up on his previous point, Suomi stated that filling the space under the mattress with storage units is an obvious space saver. He also likes incorporating "visible" storage by adding hooks to furniture and walls.
Widen the Windows. It's no secret—natural light creates a sense of space. While many brands are making rooms smaller, they're also looking for opportunities to add more light, which, especially for new construction, means larger windows. "In order to maximize the usability of our guest rooms and to make them feel bigger, our design team chose oversized windows that open up the space with a lot of natural light."
Declutter. Jaritz and her team agree that, "The key to designing a smaller guestroom is to make efficient use of the space to ensure both functionality and comfort. Our guestrooms are built to make every square foot count. For example, we've eliminated case goods and clunky furniture in exchange for smart storage solutions like space for suitcases and personal belongings underneath the bed, on the bench above PTAC unit and in the storage space in the open closet area."
Toss the Tub. "Another conscious design choice to make our guest rooms feel bigger was to eliminate bathtubs for showers only. Based on our research, guests (even with families) increasingly prefer showers… Of course, we do have baths (in some rooms) to ensure ADA compliance," Jaritz said.
Thin Is In. The development of the flat screen TV has made it easier for designers to shrink rooms by 50 to 60 square feet without losing an inch of floor space. "Hotel rooms used to be designed and laid out around deep armoires and dressers that were designed to hold tube televisions that were as deep as they were tall," Suomi remarked.
"Today's televisions, which are designed to hang on the wall and are often no deeper than an artwork frame, do not require cabinets to hold them and have allowed designers to make rooms up to 24" narrower. That kind of reduction in room width can translate into rooms which are [significantly] smaller than their predecessors."
Small Can Be Splendid
Both Jaritz and Suomi concur that with a commitment to innovation and access to the wisdom of a top-flight design team, it's possible to create smaller spaces that are true gems for business and holiday travelers.
"Just because you're designing a small guest room doesn't mean that it shouldn't be packed with meaningful guest experiences!" Suomi exclaimed. "Some of our most fun and 'user-friendly' rooms are our smallest."
---
Join us in Austin for HotelSpaces '19 to learn about the latest trends in hotel development, design and construction.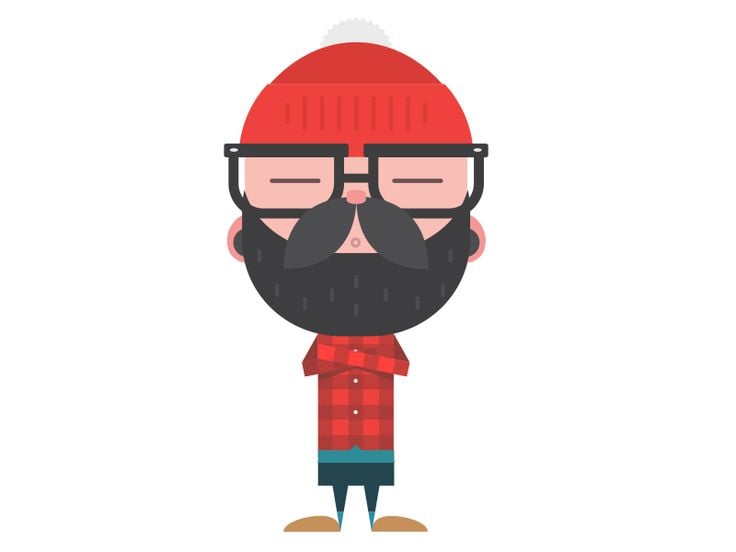 Posted by
Andy Smith is a veteran journalist and copywriter. Andy writes about hospitality, retail, senior living and higher education topics for influence group.
Join us at HotelSpaces!
A One of a Kind Retreat for Hotel Development, Design & Construction Leaders.
Oct 27-29,2024 | Palm Springs, CA
Learn More