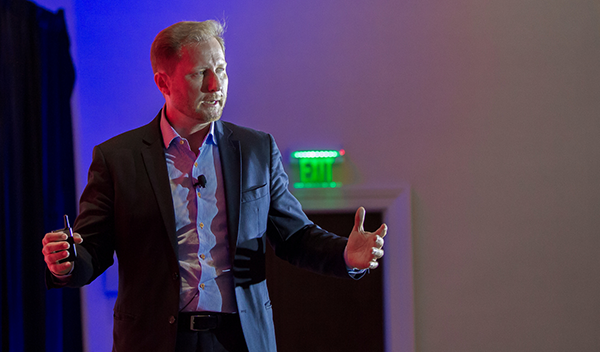 It would be fair to say that if you were to ask 100 hotel operators what the biggest threat to their business is, 99 percent of them would probably say Airbnb.
And it's true that the sharing economy, including home-sharing platforms like VRBO, are a serious threat to traditional hoteliers, particularly the worldwide mega-chains for which impersonal uniformity was previously considered a strength.
But consumer tastes have changed, and so the market has changed. That market shift is best represented by Airbnb's meteoric rise, with a $31 billion valuation in 2017 and growth of nearly 60 percent over 2016 to nearly $3 billion in revenue.
That's taking a big chunk out of the hotel industry's profits, no doubt, and major chains are taking notice. But hotel leaders can learn from Airbnb, explains Paulo Mancio in a recent 'Innovation Talk' at HotelSpaces.
A Call For Authentic Experiences
The Senior Vice President of Technical Design and Construction for AccorHotels says that what the industry is learning from Airbnb is how to offer home-feeling experiences and how everything about the customer experience hotel chains have been pushing for the last 30 to 40 years needs to be rewritten, creating a new chapter in the hospitality industry.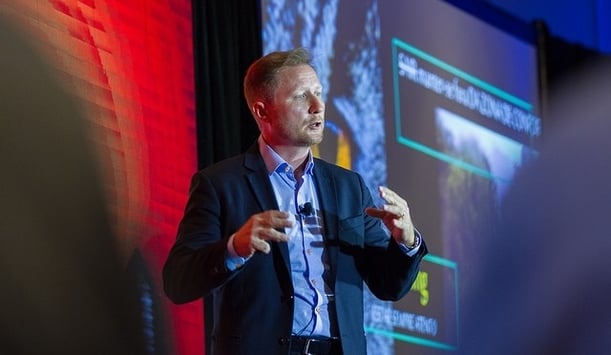 AccorHotels operates more than 4,200 hotels in 95 countries, with a total of 600,000 rooms and 20 brands spanning economy to luxury. But for years they have tried to implement the same solutions at all of their locations, and that is a mistake in this new scenario.
"We need to create something that considers global and local culture offering emotions through experiences that connect people," he says. "We need to bring new ideas implementing design and architecture solutions, creating something really real for our clients."
Innovation in hotel development means always being proactive and always rethinking, he explains, and that means keeping a close eye on competitors. Right now, one of the biggest competitors is Airbnb, so what they need to do is analyze what Airbnb is offering to people and how they can create better experiences to the clients. What they have learned is that it's all about the human connection.
"We need to bring soul and go on to offer much more than a stay to our clients, reinforce human to human experiences," Mancio says. "We need to transform our places exploring art, culture, and entertainment."
One of the ways they are doing that is investing more in food and beverage and de-formalizing reception areas. Now food and beverage takes the center stage with multi-functional spaces, creating connections, inspirations, emotions and facilities, as places where people meet and mingle and as a way to invite more people in, beyond even just the hotel guests. Restaurants and bars are now located in the front of the hotels, with reception areas in the back, and downsized to be more casual. He discusses the company's ibis brand, an international economic brand popular with Millennial travelers located in or near city centers and transit hubs, that allows guests to check in from the lobby café. He mocks the embarrassingly obvious "Are you checking in?" question asked by most reception area clerks and emphasizes the need for more genuine, human connections.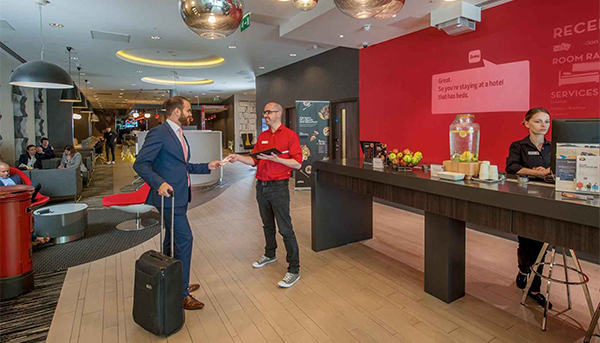 At Accor's Ibis hotels reception areas are de-formalized and guests can check in from the lobby café.
He says that when AccorHotels has looked at competitors, Airbnb is a good example. For him, it's not about the platform – it's not about the digital or tech component – but about the experience. The most crucial thing for a hotel chain to do is to understand the new behavior of people and society because it is changing. Hotel innovation comes from understanding how Airbnb's popularity is in part driven by the perception of unique experiences and experiencing something "real."
Now when he meets with hotel vendors his first question is, "What are you going to do to my hotel to improve the experience and to improve the life of our clients?" His purpose, he says, is to inspire people and to create something remarkable.
Looking to the Future
The focus on human connection means offering co-working spaces, exceptional food and beverage concepts that serve as more than just "hotel bars," dynamic gyms that are more than just barren rooms with some basic workout equipment and boring machines.
It means creating spaces that bring, "townsters and tripsters" to meet and share their experience, and where rigid socioeconomic divisions disappear. It also means creating an environment in which the employees are all "Heartists" who serve others from the heart.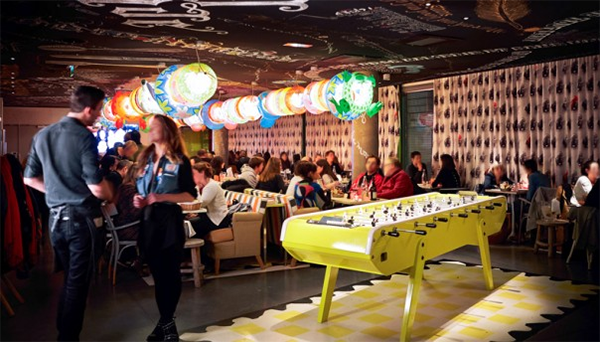 Mama Shelter's guest rooms and trendy restaurants offer memorable experiences.
Recent investments in Millennial-focused lifestyle brands like Mama Shelter and 25hours will continue the company's market-savvy pivot towards offering unique experiences and encouraging interaction, as will the launch of their new Joe & Joe brand, an "open house" concept that aims to combine the best of private rental, hostel, and hotel formats with the goal of opening 50 locations by 2020.
---
Download our free report on Innovations in Hotel Design & Construction.