Part of the TTC family of brands, 15 of Red Carnation's 17 hotel properties across the UK, Ireland, South Africa, Switzerland and the US have earned five-star ratings.
The family-run, boutique brand is known for unobtrusive customer service, attention to detail in décor and cuisine, but most importantly, the historic background of its properties – which include Ireland's 800-year-old Ashford Castle in County Mayo (dating back to the Anglo-Norman invasion in 1228 ), London's Milestone Hotel (Travel & Leisure's #2 hotel in Europe), the Summer Lodge Country House Hotel in Dorset and Florida's Chesterfield Palm Beach.
Details like personalized business cards featuring the name of the guest's suite, afternoon tea for young princes and princesses, and red carpet pet accommodations are a few examples of Red Carnation's approach to standing out in the highly competitive luxury market.
Red Carnation Managing Director Jonathan Raggett and Brian Brennan, Director Building & Design, are proud of the brand's properties but also of its reputation for training and employee satisfaction. HotelSpaces asked Jonathan and Brian about some of the unique challenges Red Carnation faces converting historic homes into 5-star properties while maintaining 21st Century services, including is landmark renovation of Ashford Castle.
''Can you tell us a little about Red Carnation hotels history from the first property to the present?''
Raggett: Red Carnation Hotels started in 1984 with the purchase of the Chesterfield Hotel in Mayfair, London. The Milestone Hotel in Kensington became the second London hotel to join the collection in 1999. In 2006 Red Carnation purchased The Oyster Box, a particularly special place for the owners, who first met there in the 1950s.
The collection now stands at an impressive 17 hotels, with the most recent acquisition being the magnificent Ashford Castle in Ireland, purchased in 2013 before embarking on an extensive 2-year and $100MM restoration project.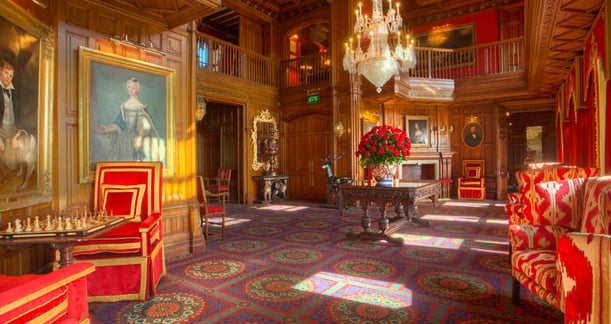 ''What are some of the unique challenges of converting historic buildings (including castles) into modern hotels? For example--how many bathrooms were in Ashford Castle before the conversion vs. now? What types of upgrades were necessary? Were historic restoration experts brought in to preserve artwork, wallpaper, tapestries or rugs?''
Raggett: Creating an environment for our guests that meets the needs of the modern traveler whilst retaining the historical look and feel of the property. The infrastructure of the property cannot be changed, so you need to work with the space that you have.
Brennan: We added an additional 12 bathrooms to the Castle, and 5 Bedrooms & Suites were created. I had a team of historical conservation architects as the plaster mouldings and windows in sections were listed, as were the lead roofs. We had to redo all of them in the old style; for the stonework we had specialist teams rebuild wall sections and take care of the cleaning and stone restoration. Conservation bat surveys also had to be carried out as we put bat houses in trees all over the 3600 acres.

''How much collaboration between communities, zoning boards, historic preservation societies, and other organizations is involved?''
Raggett: Involving the community in the purchase and subsequent renovation of Ashford Castle was particularly important to our owners. Local people were recruited to both renovate the castle itself and they are very much part of the team that run the castle today. There are three generations of local families working at Ashford Castle and this helps maintain consistency for our guests and retains history for the castle.
Brennan: We got a lot of people on our side in the community. We held many meetings with the Council and conservation team to ensure we did everything sympathetically to enhance the Castle and keep the oldest sections in tact while installing new plumbing, as well as cabling windows in several areas, putting in air conditioning, etc. We created the cinema and Billiard room from empty roof space.
''How do you identify and then go about securing these unique properties? Do you have a development team that searches for older homes that would make good Red Carnation hotels?''
Raggett: Red Carnation Hotels look for properties that are in need of investment, in both a financial sense and also in the training and development of the hotel teams. Exceptional and passionate service is very much part of our DNA and it is important that any new hotel is equipped to deliver this consistently in order to exceed the expectations of our guests.
''Is there a commitment to focus exclusively on older properties similar to the ones you're converting now or have you considered jumping on the bandwagon to convert more "urban" properties (like factories/warehouses, etc.) to Red Carnation properties?''
Raggett: Each and every Red Carnation hotel has a story to tell – from the Guinness family home (Ashford Castle) to the residence of Thomas Hardy, the hotels are destinations in themselves, where guests have the opportunity to experience a piece of history first hand.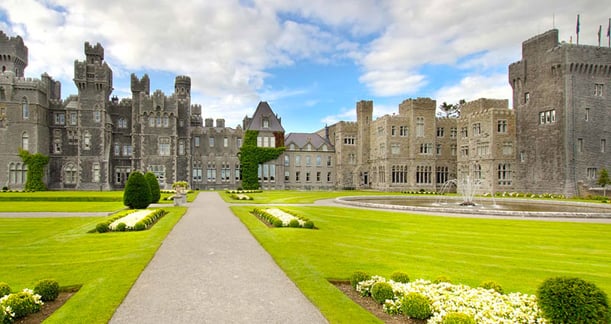 ''You offer so many personal details at properties like The Milestone ("midnight feast" picnic baskets, personalized cufflinks). How important is that to your brand and are there similar examples of these details from other Red Carnation hotels?''
Raggett: We strive to deliver personalized service to each and every guest. From the guest preference form to the personalized turn down gifts. Our mission each and every day is to make our guests feel special by understanding what is important to our guests and understanding that every guest is different.
''And how are/will you go about attracting a younger demographic to your properties?''
Raggett: We are active on social media where we find younger guests are inspired by the content we create around our hotels and local destination experiences, particularly through Instagram and Facebook. For our very young guests, we understand happy children mean happy parents, and are dedicated to creating memorable experiences for the whole family, from pastry experiences in the kitchen to kids passports on arrival.
''Other than the inherently unique qualities of your properties (It's a castle!) what are the challenges faced by 5-star properties to carve out a niche? How do you compete and edge the competition?''
Raggett: In a world where all 5 star hotels have great beds, inventive cuisine and refined amenities, the secret is in our people. We work exceptionally hard to ensure our teams are well trained, inspired and motivated. Consistency is incredibly important when creating a home for our guests who look forward to seeing a familiar face when they return. Our teams know our guests and our guests know our teams – and that is not always easy to replicate.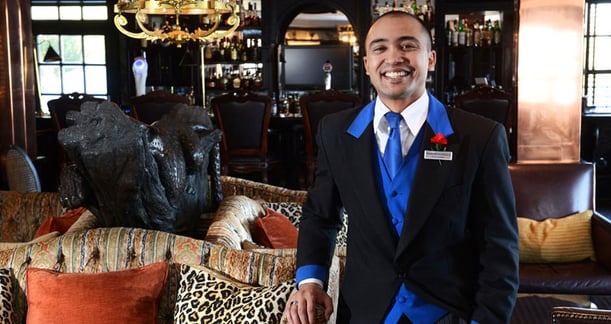 ''Following up on that theme—how important is maintaining a unique food and beverage menu? The Milestone has the Sabrage demonstration and the smoky old-fashioned—what are some comparable offerings at other properties?''
Raggett: The emphasis is on locally sourced, seasonal and delicious menus. It is essential that the food served in our hotels is representative of the region in which it stands, demonstrating local specialties and traditional style.
Creating a sense of theatre in our restaurants and bars has always been a passion for Red Carnation, from 'molecular cocktails' at The Chesterfield Mayfair to catching your own trout for supper at Ashford Castle. We know our guests are looking for more than a hotel room, they are looking for an experience and that is what we strive to deliver.
Looking 10-, 20 years down the road, do you believe more older buildings will be converted into hotel spaces or will it remain a small niche? And how will your properties look and "be" different? What role with 'tech' play in keeping historic properties current?
Raggett: As long as travelers continue to enjoy staying in historical buildings, investment will continue to be made. We will continue to differentiate on service and the guest experience. We will invest in the technology that our guests ask for and that we truly believe enhances the guest experience, whist preserving the history and heritage that makes our hotels so unique and special.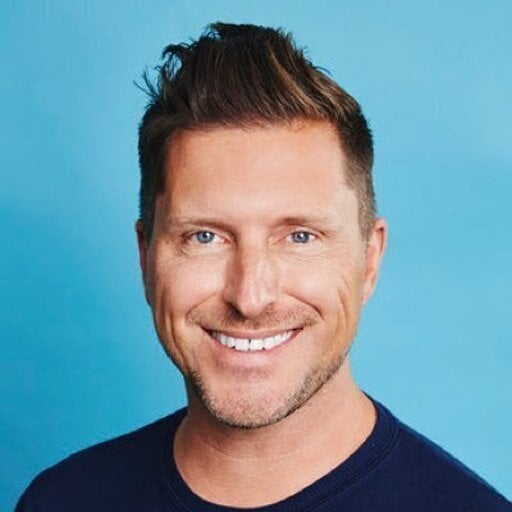 Posted by
Michael P. Owens is Co-Founder + Managing Partner of influence group, a leading producer of invite-only B2B events.
Join us at HotelSpaces!
A One of a Kind Retreat for Hotel Development, Design & Construction Leaders.
Oct 8-10,2023 | Frisco, TX
Learn More