In the early 1930s, New York architects were competing in a frenzied, media-driven "race to the sky" to build the world's tallest steel-frame skyscrapers, with the Empire State (riveted steel and limestone) breaking the steel and brick Chrysler Building's record in less than a year.
As we approach 2020, a new, though less overtly competitive, race is underway in the field of modular design, with a series of exciting new prefabricated steel towers rising above the New York skyline. They're breaking height records for prefab skyscrapers just as fast.
Not surprisingly, architect and TV host Danny Forster and his firm Danny Forster & Architecture are leading this charge with a number of innovative hospitality projects. Though their towers aren't anywhere near Manhattan's tallest yet, they are pushing the boundaries of steel-based modular, an approach still in its infancy.
The co-creator (with Steven Spielberg) of the documentary "Rising: Rebuilding Ground Zero," host of Discovery Channel's "Build it Bigger," and the new series "Prefab Nation" shared stories from this prefab frontier as the keynote speaker at HotelSpaces.
Though Forster's firm has created a range of cultural projects, including the Museum of Environmental History in the Seychelles Islands and Museum of Ethnography in Budapest, the majority of its work is in hospitality, including re-envisioning Starwood Hotels' Aloft brand. In addition to his work with modular design, he's designed the award-winning AC Hudson Yards Hotel, and the Courtyard by Marriott on the World Trade Center's southern edge. His team is also currently designing the world's first 5-star modular luxury hotel on the Caribbean island of Nevis.
Modular Grows Up
On "Prefab Nation," Forster and his team work with families to create new, quickly assembled prefab wood-frame homes. "Fourteen weeks later you've got a house. It's great. And in America, we've done this for a while. We've got different companies with different capabilities for wood frame modular."
However, for buildings above four stories, wood frame isn't an option and with steel-modular construction, "America has not had a very deep experience in that area."
Describing the process of becoming "modular architects," Forster detailed his firm's work on the new 25-story AC Hotel NoMad in NYC, set to open in 2019. It will replace the 19-story citizenM Bowery (which just opened in September) as the world's tallest modular hotel.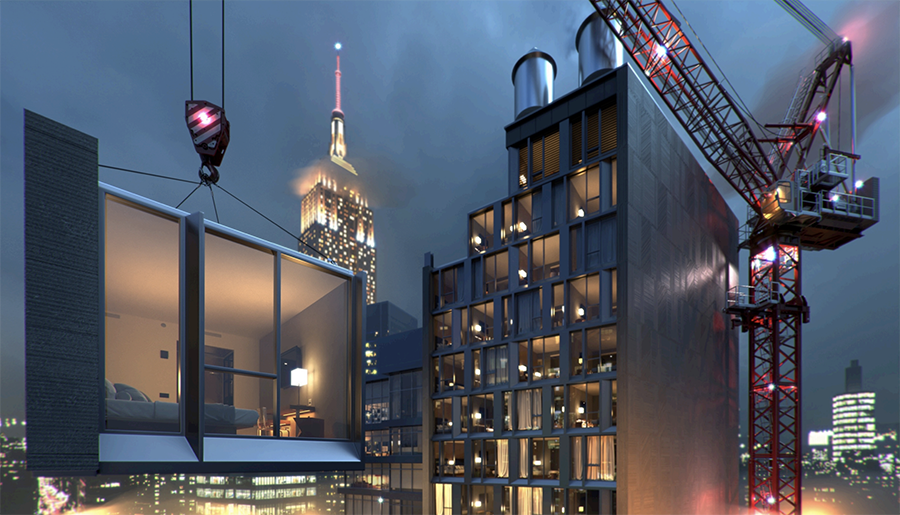 AC Hotel NoMad. Image courtesy of DF&A
To provide context, he also detailed three recent NYC modular projects—citizenM, The Pod Hotel and The Dean Street Residential Building attached to the Barclay's Center in downtown Brooklyn, America's first high-rise modular residential project. The work of other architects/developers, these three projects all turned out well but faced major challenges during construction.
"They weren't all grand slams," he admitted. "So why, given all the different challenges, would we endeavor to do a building that's taller and more complex?"
His answer, "We believe deeply in this as a methodology, but we want to be honest with the fact that it's very complicated to do. It takes a reimagining of how you put buildings together from beginning to end."
Learning From the Recent Past
Careful planning and learning from earlier prefab towers is helping the AC NoMad project run more smoothly.
Forster chose clean, simple, repeatable design for the hotel's prefab components. "If you look at the tower, it's actually quite conventional in some respects. You've got a tall three-story podium, with a tower behind it. If you look at the tower, it's exactly what you want in a modular project."
The foundation, a three-story podium, is being built on-site, the rooms in a Krakow, Poland factory. The structural 'spine' of the hotel, including the elevators, also is being built on site.
"In the podium that we're building in New York, we can 'go nuts' (with creativity). We can design as we've always designed," he said. This foundation will feature sloped ceilings, 'double-high' ceilings' and other dynamic features, as well as indoor/outdoor spaces. "We are totally unconstrained."
Above the podium, "the building becomes relentlessly repeatable. You want that building to be tuned to be fabricated in a shop."
However, Forster emphasized that the building wasn't designed to 'look modular,' a concept that's still tainted in America. "At present, people think of it (modular) as mobile homes. From an optics standpoint, we firmly believe this should be read as an iconic piece of architecture, regardless of how we built it."
Tweaking the Optics
To avoid the look of "stacked boxes," Forster's team designed the façade with dark metal that gradually grows whiter toward the top, making the building appear taller and giving an architectural flair.
Other features include "no mechanical shafts in the body of the room. The room is finished in Poland, the corridor in New York." Shafts are narrow, not as a design feature, but to make the mateline (The joint between the modules) work easier, less dangerous and strenuous for workers.
Construction on the podium is well underway, while the modular rooms are scheduled to be completed and shipped back to American in January 2019.
Forster added, "Room design was optimized to be stacked four-wide across the width of a ship." When designing prefab rooms that require long-distance transport, designers must consider factors like the turning radius of trucks and the allowable width on bridges (in this case, the Manhattan Bridge), he added.
With modular, consensus between owner, architect, manufacturers, contractors and other essential parties should be reached during the planning stages. "They have to make hard choices that are expensive early in the process," he emphasized.
"It's a complete shift in how you think about your labor force and your time. You're talking about full mechanical coordination. When you build a prototype, it's not an aesthetic mockup, it's a functional prototype."
Two Tech Advances
Forster's team developed technology specifically for the AC Hotel NoMad to help the developer better understand the logistics. Their tech not only provides virtual reality tours of proposed rooms but takes VR to a new level of granular detail. For example, users can pinpoint dozens of embedded specs for all room features (replacing stacks of PDFs), meaning "a specifier can make sure they're buying the right thing," he said. "Every single item lights up with its spec."
This highlights the importance of making significant financial decisions early in the process.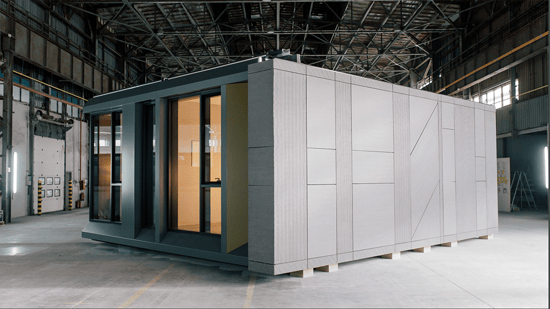 AC Hotel NoMad. Image courtesy of DF&A
"You can't make changes later on. Well, you can, but it's a nightmare. So you must get the property's owners to agree to design elements early."
Working with VR, developers can see the room design and determine design elements and features worth keeping and those that can be lost, containing costs without diminishing quality. "You can simultaneously understand the architectural, the guest experience and financial implications," he said. "You can say to your ownership group—this is what you're building!"
Since only a handful of U.S. manufacturers make steel modular rooms, construction is usually shipped overseas. Forster's second development facilitates remote supervision of modular construction. To monitor timelines and quality, his team installed cameras in Krakow, checking in throughout the process to monitor quality and "keep everyone honest."
"What we do is based on VR, we locate cameras based upon five specific views. At four stages during construction of all 168 modules…we can see a 360-degree time lapse to see the building getting built, from steel, roughing, sheetrock, and when the FF&E comes in." It also becomes an opportunity for facilities management after construction is done," he said. "This has been a critical tool."
Challenges Aside, the Future is Modular
Modular design is the next wave and Forster urged the HotelSpaces' audience to embrace the future.
"We're pursuing modular projects and want to make the point that this isn't a fluke," he said.
U.S. Rep. Elijah Cummings (MD) and other reps are looking to bring manufacturing back to America and modular manufacturing presents a great opportunity, Forster said. "It will require developers and folks in this room to support this effort. It gets better for all of us if we all do this."
Fielding questions from the audience, Forster stressed the importance of planning and coordination in completing successful modular projects, adding that the current project in Manhattan involved six months of due diligence before they decided to go with a modular approach.
"All the fabricators, the general contractor and modular fabricator were selected at the same time. It becomes IPD—integrated project delivery. Your architect, general contractor and modular manufacturer become a team."
Forster added that there are two key types of modular methodologies for high-rise construction—building a concrete core with elevators, stairs and lateral bracing (the approach he's used to this point), and the Brace/Frame System, which involves no concrete at all.
Is It Better?
From studying other projects, he's learned to never build a concrete core all at once, because they tend to move, shift and settle in different ways and to varying degrees. Instead, Forster recommends building up-to four floors at a time and then allowing the structure to settle before adding modular rooms. Then, continue to the process at the same pace.
Addressing the issues of cost and scheduling, he emphasized the time saved. "Right now, if we can be cost neutral and faster, that's my goal," Forster said, adding, "One advantage when the majority of your building is modular, you have 'cost certainty' early in the project."
A casual attitude doesn't cut it with modular design. "The technology is wildly flexible, it just takes an insane amount of coordination to get it done," he said. "Is it cheaper? Is it Faster? Is it better? It's all of those things if it's done right and an unmitigated mess if it's not."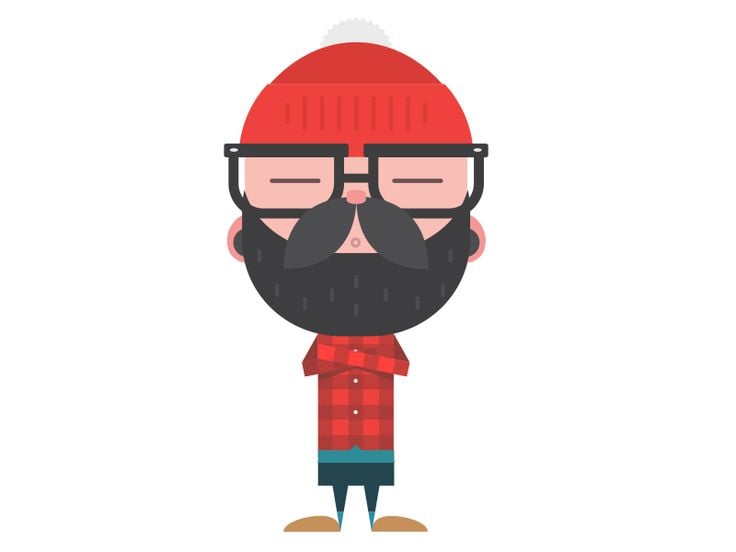 Posted by
Andy Smith is a veteran journalist and copywriter. Andy writes about hospitality, retail, senior living and higher education topics for influence group.
Join us at HotelSpaces!
A One of a Kind Retreat for Hotel Development, Design & Construction Leaders.
Oct 8-10,2023 | Frisco, TX
Learn More