The American traveler hasn't exactly been clamoring for the retro motel experience since the roadside staple's 1960s heyday. But even as the hospitality landscape has evolved to include luxury amenities and ultra-modern touches over the decades, one hospitality company has carved out a niche for themselves by leveraging our culture's love of nostalgia and marrying it with the kind of thoughtful, carefully curated experiences that today's traveler has come to expect.
Bunkhouse Group, a boutique hospitality organization based in Austin, has worked to find a marriage between the two concepts that resonate with guests and communities. Tenaya Hills, vice president of design and development, and Sophia Aurelio, director of new projects, spoke to the audience at HotelSpaces about the steps Bunkhouse has taken both for new and renovated properties to ensure motels remain a viable lodging option for guests.
"We have a reputation for memorable hotel experiences that offer more than just a place to sleep," Hills said. "With a passion for design, a tireless attention to detail, and a commitment to creating authentic cultural experiences, we believe we are creating genuine awareness and connection to these places."
Seeking Experience
While hotels and motels differ in many ways, guests of each lodging type are looking for the same thing: an experience.
"We're seeing a resurgence of a desire to travel," Aurelio said. "Our travelers are looking for an authentic experience; what they see as the unknown. Guests are no longer booking based on points. They are wanting something more."
For new builds, this includes keeping the nostalgic elements of a motel but using new, modern finishes and construction elements.
A Brand-New Boutique
That was exactly what went into Bunkhouse's latest property, Hotel Magdalena, the first mass timber boutique hotel in North America. Magdalena comprises multiple buildings of two, three, and four stories, all with outdoor entrances, styled after those retro motel restorations that are in Bunkhouse's wheelhouse but built from the ground up. The hotel is located on the site of the 1950s-era Austin Terrace Motel, which has been constructed with timber beams and columns (and which Magdalena's design and construction pays homage to).
"Magdalena was a labor of love," Aurelio said. "We took a lot of design inspiration from previous buildings, but our architect was adventurous and wanted to explore this concept."
With exposed exterior walkways, using mass timber made sense; however, the guest rooms were a bit more complicated. In all, there are 89 rooms at Magdalena and seven different types, which created challenges in rolling out the concept, Aurelio said.
"Mass timber to mass structure…that was not easy on the guest room scale," Aurelio said. "They were built off-site and then brought in. But issues popped up, and because of the wall structure with the timber, we had to go back to the structural casting company to know where to drill a hole or how big it could be."
Another issue Bunkhouse faced during construction was the site itself. With 20 feet of drop, the hotel is built on stilts, with one side below ground.
Maintaining Character
While Magdalena is the first ground-up project for Bunkhouse, they brought the same design ethos to this project as they do to all of their renovation and restoration projects by making the unique experience of guests a top priority.
With that in mind, the company focuses on timelessness rather than flash, Hills said.
"Guests aren't planning to spend a lot of time in their room," she said. "Today, the expectation is comfort, quiet, casting, and wifi. So, we're left to retrofit buildings with new expectations."
Updating rooms and shared spaces, while maintaining the unique character that motels offer, is a priority for Bunkhouse.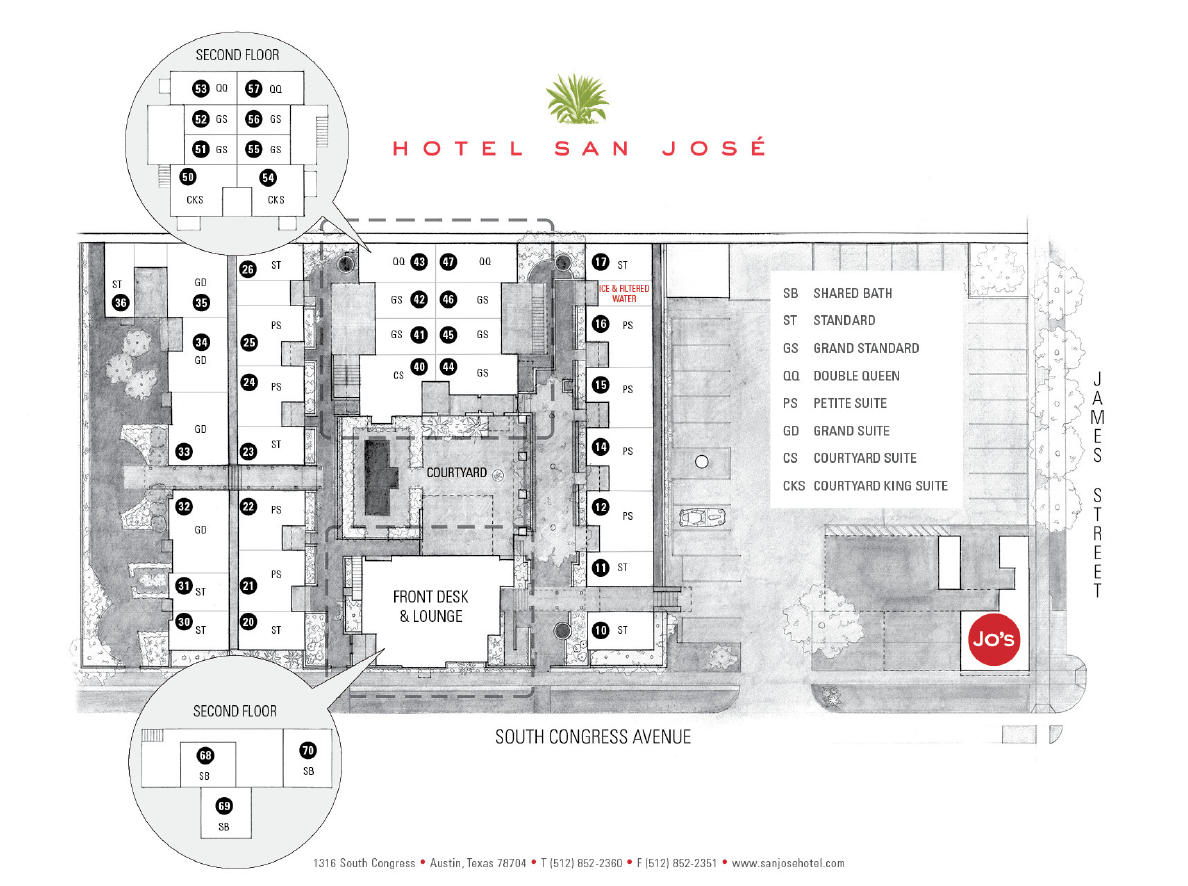 San José Hotel Floorplan
"Underutilized motels are all different based on their location, but they are all valuable," Aurello said. "You can't replicate that in new construction."
In many cases, the company tries to salvage original materials from the motels. For instance, at the Hotel San José, they kept the plaster walls and resealed the concrete to embrace the feel of the hotel over the years. They also repurposed the motel's long-leaf pine into guest beds.
Commitment to Community
One cornerstone of Bunkhouse Group's brand is its commitment to community – each property is thoroughly rooted in its surrounding community, designed to reflect the local geography, history, and culture. But Bunkhouse also aims for each property to become an integral part of its community, as much a social hub for locals to pop in for happy hour after work as a place for travelers to rest their heads.
"Travel is a social experience, and providing space for guests to utilize is crucial not only for travelers, but for communities to gather," Hills said. "We are proud that our hotels feel like the living room of the community."
By utilizing shared public spaces, renovating pool areas, and opening small retail stores near the lobby, Bunkhouse has been able to create spaces that bring people together.
But that has been a challenge with Magdalena, which opened its doors in September 2020.
"We opened in the midst of COVID-19," Hills said. "We couldn't do all the events we wanted to do. It's been exhausting for staff, and it's been hard to hire. The hotel is beautiful, and people love it, but we feel it hasn't reached its full potential in that sense."
Built to Last Forever
Whether renovating historic motels or building new properties with imaginative designs, Bunkhouse is constantly looking to the future. The company currently has five properties in progress, each offering a unique feel while staying true to the community in which it's located.
Though there may be new touches and updates down the road, Bunkhouse keeps a focus on where communities have been and where they are going.
"When we look at projects, we build for them to last forever," Hills said.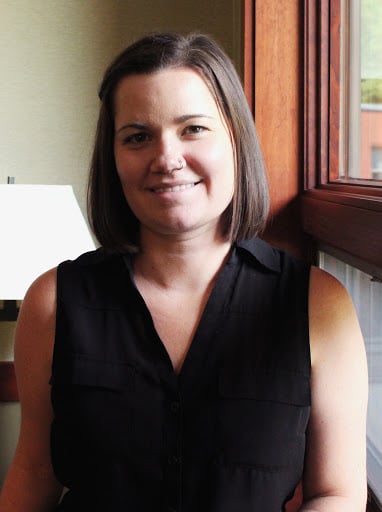 Posted by
Ashlee Kieler is an experienced multimedia journalist based in Iowa. She is passionate about telling stories about healthcare, education, retail and a smorgasbord of other topics.
Join us at HotelSpaces!
A One of a Kind Retreat for Hotel Development, Design & Construction Leaders.
Oct 8-10,2023 | Frisco, TX
Learn More