As hospitality looks to a future beyond COVID-19, developers and design professionals are innovating old properties and developing new ones that maximize the use of outdoor spaces, improve indoor air quality, and create more hygienic rooms and common areas that still look welcoming.
Here, we look at the present and the pragmatic – what hotel chains are doing NOW, as well as a few visionary ideas for the future.
More Flow Between Indoor and Outdoor Spaces
"Architects and interior designers will continue to need to study and consider air quality, evolving health standards, and technology that can work in tandem with hotels' own operational protocols to help boost customer confidence," writes Jessica Ritz in Architectural Digest. Sources in her piece predict that the trend of integrating interiors with well-designed outdoor spaces will continue, probably at an accelerated pace.
"We opened up the plan and removed a lot of walls so that the entire lobby experience feels expansive," said Jennifer Johanson, president and CEO of EDG Design, describing her firm's Viceroy Santa Monica project, adding, "We've learned the importance of making the exterior spaces as interesting and dimensional as the interior spaces."
Goodbye, Carpet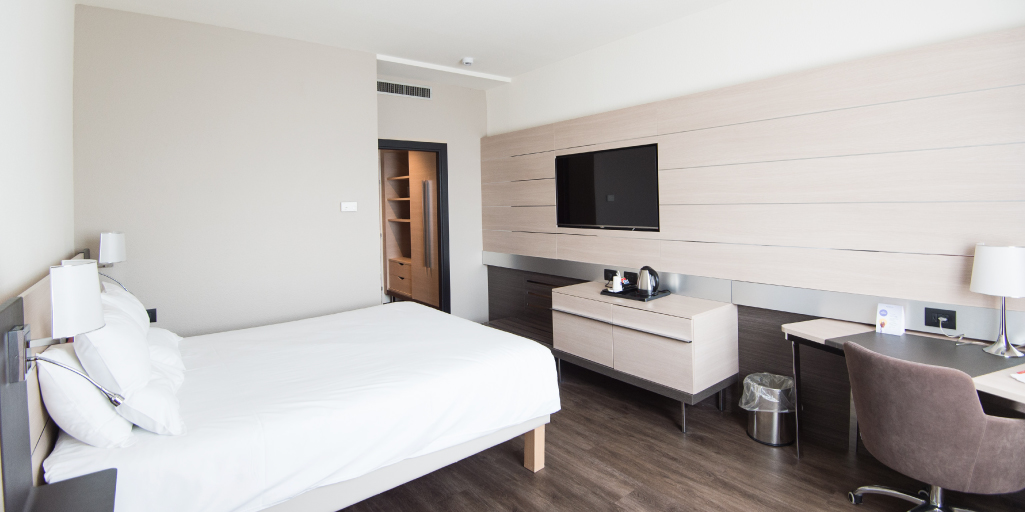 Rooms, Aarin Hotels
Designers and hotel chains are working to prioritize hygiene without resorting to stark minimalism.
"Cleanability is more important now," said Jackie Wright, principal at Pineapple Procurement, in an article from Travel & Leisure. "We typically see hard flooring being used in most guest rooms these days. Many designers still consider carpet which is more budget-friendly, but it's also seen as unhygienic, so it will continue to be eliminated more and more. Area rugs are a nice balance, and some even have antimicrobial properties."
Hilton: A Decade of Design Evolution in One Year
In an article on its Hilton.com website, the hotelier trumpets ways it has jumpstarted customer service, housekeeping, and design to accommodate the challenges of the pandemic, stating, "The future of our hotel public space design will gracefully embrace social distancing, contactless guest journeys, and deliver innovative new ways of blurring the lines between indoors and out."
Lobbies will balance interaction with social distancing, with Hilton properties designed to:
Enable contactless guest "journeys"
Deliver innovative new ways of blurring the lines between indoors and out
Feature "architectural screens activated with biophilia (the innate tendency to seek connections with nature and other forms of life) and art...coupled with smaller scale movable dividers" (more on this below)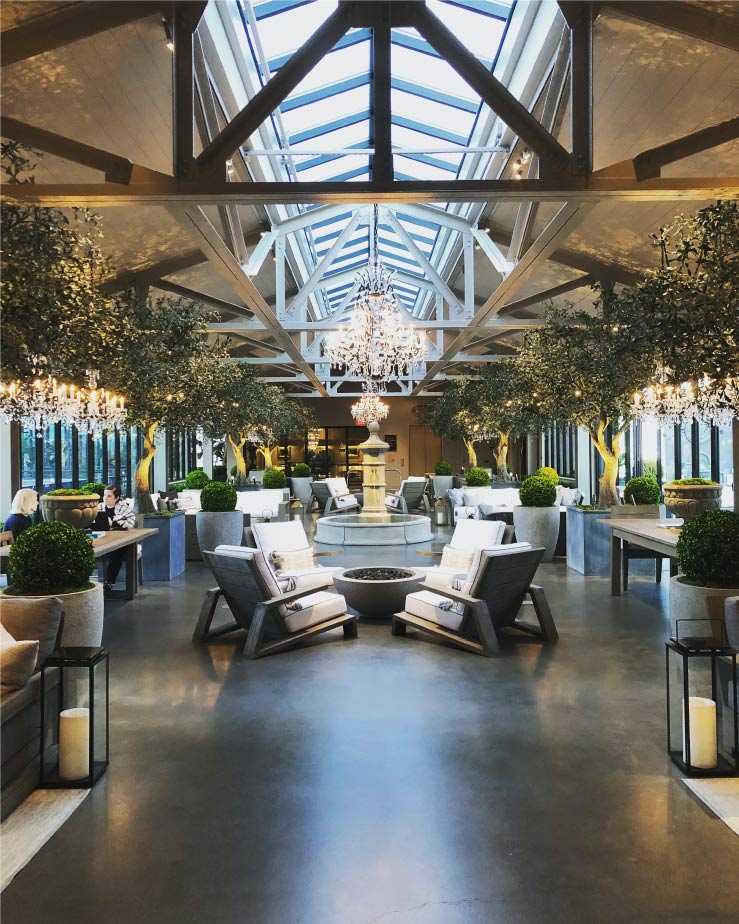 Rooftop lounge / Restoration Hardware Nashville.
Tech Minimizing Contact
Pre-COVID hands-free innovations are more important than before. Three years ago, Hilton announced the launch of "high-tech guest rooms" that help guests reduce contact with some of those high-touch areas such as light switches, thermostats, and TV remotes.
"The pandemic has proven that many guests appreciate the ability to check-in, choose their room on their phone and walk straight to their room – where their phone is now their key," says Mike Gathright, Hilton's senior vice president of customer experience, with phones also providing access to pools, fitness centers, and other areas.
Design for Hygienic Living
From furniture to fixtures to floor and wall coverings, designers have begun using "cleaner" materials, both new and traditional. "What's Next – COVID-19 Solutions,'' an article on HospitalityDesign, shares examples of products that fuse quality design and hygiene.
For example, door handles available in brass, which is actually "an alloy of microbe-killing copper," and wallcoverings made with a biocide antimicrobial protective finish that "prohibits the growth of fungi and bacteria and kills 99 percent of bacteria on its surface." Some companies have begun treating their vinyl textile collections with a bleach-cleanable, water-based ink and denim protectant.
More hotels, including Hilton, are incorporating screens, partitions, and other forms of room dividers to facilitate social distancing as well as create a greater sense of safety and comfort for guests. They're also finding ways to make outdoor meetings and dining more pleasant, such as with large, aesthetically pleasing outdoor umbrellas that act as patio coverage, and smaller parasols that provide spots of shade.



Finn's Beach Club - Bali
A Post-Pandemic Vision
It's a tired but true adage – "necessity is the mother of invention," and we could add "innovation" to that statement. Recently, DLR Group developed a post-pandemic playbook that highlights four essential tactics for a choreographed guest experience: spatial flexibility, invisible service, cleanliness in style, and protection to connection.
Hotels using their playbook as a guide would feature:
Lobbies with guest-movable partitions, air-purifying plants, and UV lighting.
Public handwashing stations that help elevate handwashing to "ceremonial status."
Screens and fabric shields that are "beautiful rather than medical."
Innovations Here to Stay?
Sources quoted in the Times article believe a number of COVID-based adaptations are now baked in because they protect the physical health and ease the concerns of guests, including the oft-mentioned "biophilic" trend, with more rooms offering larger patios or balconies, as well as windows that allow fresh air in.
"We're seeing biophilic design as a driver," Tom Ito, the hospitality leader and a principal at Gensler, told the Times.
"The biggest thing right now is this focus on health and wellness and making sure people feel safe and confident going back into hotels. Anything that assures that now and in the long term is here to stay," he added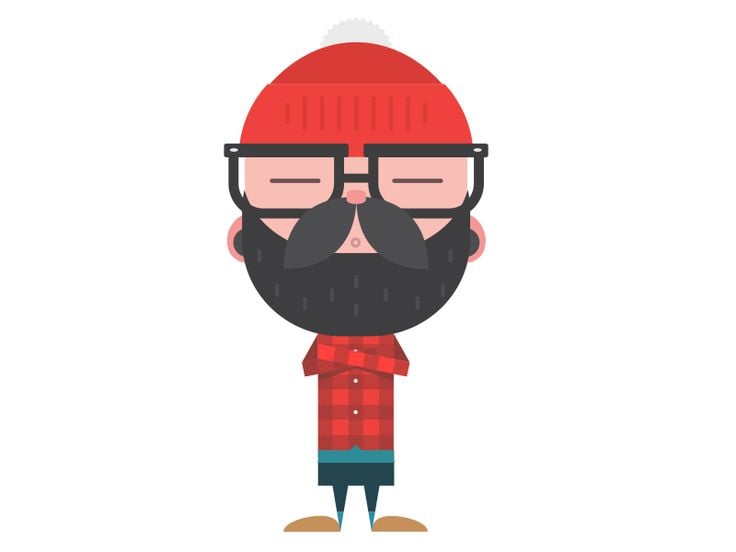 Posted by
Andy Smith is a veteran journalist and copywriter. Andy writes about hospitality, retail, senior living and higher education topics for influence group.
Join us at HotelSpaces!
A One of a Kind Retreat for Hotel Development, Design & Construction Leaders.
Oct 8-10,2023 | Frisco, TX
Learn More