In a city known for its conservative approach to new development, it took a strong team, patience, persistence, and a "steel gut "to shepherd the Pacific Northwest's most sizable hotel to completion.
When it opens in December 2018, Hyatt Regency Seattle will be 500 feet tall with 45 floors, 1.4 million square feet, 1260 guest rooms, and over 100,000 square feet of meeting space. It will feature a market café and two larger restaurants—Daniel's Broiler Steakhouse and an in-house Italian Trattoria themed eatery called Adesso. The hotel is located a few short blocks from Seattle's Convention Center.
"This is a modern piece of architecture with a very minimalistic expression that I think will look just as relevant decades from now as it does today," said Shauna Decker, VP of Design & Development with Seattle-based R.C. Hedreen Co., which developed and owns the property. "The white color was in response to the many grey days we have in Seattle; we didn't want to add more gray to the skyline. When we do get to enjoy beautiful weather, our white building against a blue sky is really stunning."
The project may have been huge—with many parties brought on board throughout the process—but the core development team was lean.
"This is the largest project that we have completed, and the largest project that most of our team has done, as well. We have a very small office: it's just a few people, which is fairly typical of a development company, even one doing large scale work like this," Decker explained.
"We put together quite a large team, however, with more than 50 consultants across many disciplines. LMN Architects was the Architect of Record for the project and the Interior Designer for the meeting space."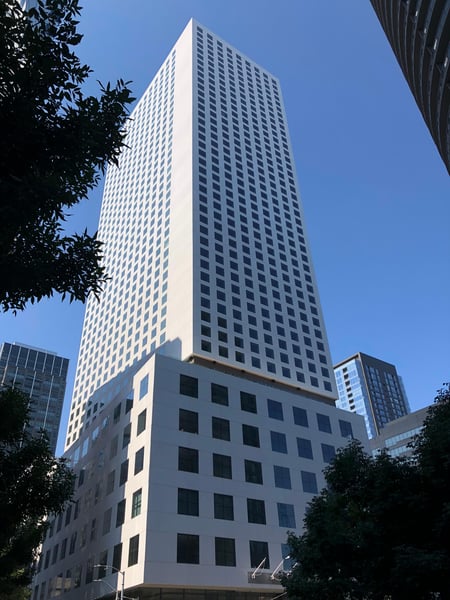 Image courtesy of R.C. Hedreen Company.
Other key participants included ARUP-MEP, MKA Engineers (structural engineering); Coughlin Porter Lundeen (civil engineering), Zena Design Group (guest room and public space interior design), and Berger Architects (landscaping). Sellen Construction was brought on fairly early in the process, as well. "We had anticipated the challenge of getting this built in the competitive market that Seattle was becoming, so we bought out the bigger contracts early in order to secure the quality contractors we wanted to work with. Overall, there have been several thousand trades-people on the job, and as many as 850 onsite in a single day."
Decker shared details on the long and challenging, but ultimately successful, development process that went into this project (which began over a decade ago), one that involved flexibility and compromise.
Early Days—Adapting to Design Pushback
The initial plan of a 1680-room hotel required removing an alley that bisected the block. "The city was not willing to give that up, so we had to scrap those plans and pivot to a new direction," Decker said. Working around the alley, they chose to divide the project into two phases, the largest of which, the Hyatt Regency, opens in December.
Seattle's demanding design review process is one Decker understands from both perspectives—as a developer and a former member of the review board. The city has a rigorous approach to design review, which she believes results in "better buildings."
"I chaired one of these design review boards for several years, and generally, I am a proponent of it as they reinforce what we are trying to do on a macro-scale with [Seattle's] comprehensive plan, to the micro-scale in designing places for people."
Headaches aside, Decker acknowledges that the "lengthy and sometimes frustrating process is vitally important, as it also enables the public to participate and voice their support and concerns, ultimately resulting in a city that considers the many diverse needs and wants of those who inhabit it."
"We got through it, and I am very pleased with how our building is designed to engage the city, from a pedestrian experience to the skyline view."
Addressing Traffic
Progressive in many ways, the fastest growing big city in the U.S. is a bit behind the curve in mass transit options, making traffic a concern. Fortunately for hospitality developers, office towers that draw thousands of commuters create more problems than hotels, which generate less traffic.
"We did go through an extensive environmental impact statement to assess the impacts to our traffic, and housing, among everything else. Hotels actually have a relatively small impact on traffic in comparison to an office building, as most people commute from the airport on the light rail, or [take an] Uber during non-peak traffic times."
Demolition & Construction
The proposed site also presented hurdles, not the least of which was a "possibly" historic Greyhound Bus terminal which had to be relocated.
"We took down several buildings on the block including the structure that housed the Greyhound bus terminal for many years, an office building, and an apartment building. The rest of the block was surface parking," Decker said.
"We had to nominate the Greyhound building to be reviewed as a potential landmark (it was not deemed worthy of that status after a fairly lengthy review process as there was little historical integrity left in the original structure). We also paid tenants in the apartment building who needed relocation assistance."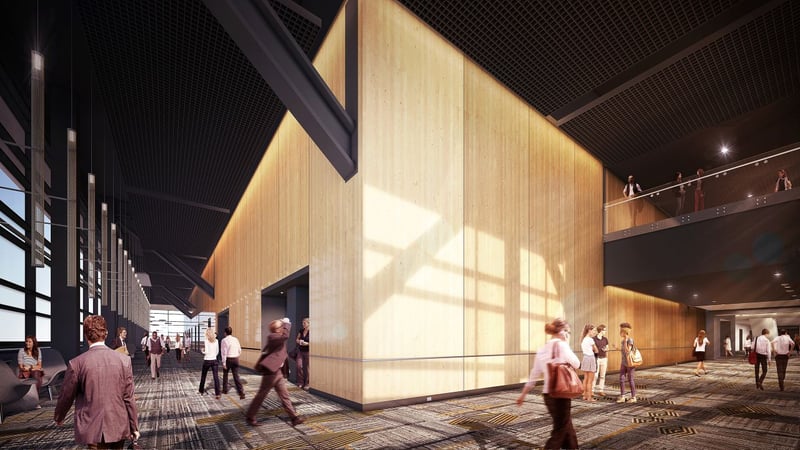 Image courtesy of LMN Architects.
In addition, the office building presented a few challenges, with "one or two small yet tricky leases that were more expensive to get out of than we would have liked," Decker reported.
Once these logistical matters were resolved, the actual demolition was a 21st Century process, integrating procedures that limited waste and facilitated reuse. "Demolition itself is an interesting methodical deconstruction of buildings these days. No more implosions. We recycled and salvaged as much waste as we could, pulling out the heavy timbers and everything else that could find a new home somewhere other than the landfill."
With demolition complete, there were a few hiccups during the construction process, which began early in 2016.
"With over 900 concrete trucks, Sellen expertly orchestrated one of the largest mat foundation pours ever in Seattle.When it came to forming the large high bay floors of the podium however, we struggled to stay on schedule. It took much longer than was anticipated, with nearly 10 miles of shores to put in place."
"Once we hit the typical tower plan, the process became much more regular, and we were able to do a floor per week."
Striving for Sustainability
A high percentage of natural daylight with controlled lighting, low-emitting building materials sourced regionally or from recycled content, significant reduction in water consumption, and optimized energy performance are among the key features making this Hyatt a contender for LEED Gold.
The project was also able to permanently protect over five thousand acres of forest and five acres of local farmland as part of the city's development rights (TDR) program. By participating in the TDR initiative, the project supported regional development goals by increasing density in existing urbanized areas while conserving forests in perpetuity and compensating landowners for protecting farmland.
"The LEED certification process is important to us, and it is important to our guests. We are going for LEED Gold, but each point needs to be evaluated as a business decision, as some things make sense to do, and others do not. We brought in a consultant to manage the process for us from the start of design, as most of these items need to be commitments made early in the process," Decker asserted.
"Beyond LEED certification, we have a commitment to reducing our impact on the environment through operations. We just made the decision to eliminate the individual amenities in the guestroom (shampoo, body wash, conditioner) in lieu of a dispenser in the shower filled with beautiful products for our guests," she added.
"I figured it [would] eliminate more than one million plastic bottles going to the landfill every year."
A Decade+ Journey
Although she has been immersed in this project for over a decade, Decker credits a large and equally diligent team for seeing it through to completion."It took the dedication, skill, and expertise of many, many people. We appreciate everyone who helped make this happen—the city planners, the architects and engineers, the lenders, the contractors, the laborers, the craftspeople, the artists, the furniture makers, and the public supporting us through the process and for putting up with another large construction site!"
She also underscored her appreciation for one person who led the vision for the project, company founder Richard Hedreen.
"Dick is able to put together a vision for a massive project like this, and stay committed to see it through to the end. He and I first walked the site more than a decade ago. We started working out a design for a project that we later scrapped after we were able to pick up the remaining parcels on the block, changing how we approached the design."
She continued, "It takes that kind of a visionary, along with a steel gut for weathering the many challenges you face as a developer along the way to get to the finish line. He has been a wonderful mentor for me, as well as many others over the 50 plus years he has worked as a developer in downtown Seattle."
Hyatt's Role in Obtaining Financing
Once the project was underway, Hedreen chose to collaborate with Hyatt for a number of reasons—most notably financing, and a strong existing relationship with the Hyatt Brand.
"Hyatt was instrumental in helping us secure our construction financing during a time that lending regulations were becoming quite challenging, at least at this level. We created our capital stack with no public financing or tax abatement, which is quite rare for a hotel of this scale."
"Having Hyatt as a partner made sense, as there was some great synergy that could happen with our other Hyatt properties. They also brought the additional support and security that our lenders were looking for."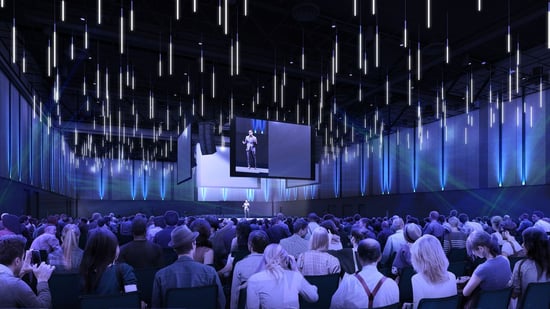 Image courtesy of LMN Architects.
Advice for Those who Think Big
For developers with deep pockets considering taking on a project of this magnitude, Decker recommends patience and flexibility. "Every project has new challenges, so you have to be open to adjusting to fit the needs."
"Of course, a full understanding of the market is the prudent place to start a development of any scale. The demand has to be there to support your vision. It's also important to strategize how to successfully weather a downturn in the market which inevitably happens cyclically. Real estate development is a bold endeavor, and managing risk is essential every step of the way. That includes choosing people to partner with that will bring the level of expertise required for your success. I advocate for spending the time and resources needed up front to allow your A&E team to put together a well-coordinated set of documents which will save you from spending time and much greater expense working it out in the field," Decker said.
"Ultimately, there has to be one person steering the ship, but as a developer, if you are able to put down your ego and lead by first listening to the input of the highly qualified team you have hopefully assembled, you will be able to assimilate that information to better inform your decisions."
A final word of advice, she added,"make sure your heart is in it. Projects of this scale are a marathon and take an incredible amount of determination and perseverance. If you are building something you believe in... that will contribute to not only your ROI, but to the community you are building in, and to the community of people you have assembled on your team, then you will have a much greater chance [of] being successful on many levels."
More to Come
As the grand opening of the Pacific Northwest's largest hotel approaches, Hedreen isn't taking a breather. Decker and her team are already working on the second phase of this downtown development, "an upper upscale," 405-room hotel on the same block.
"It will have two restaurants, including a restaurant and bar at the podium roof, as well as a fantastic pool, a few spa amenities, and of course, a great fitness center. We also have some monumental art planned at various nodes around the site that I am really excited about," she said. Construction on the as-yet-unnamed hotel could begin in 2020.
---
Join us in Austin for HotelSpaces '19 to learn about the latest trends in hotel development, design and construction.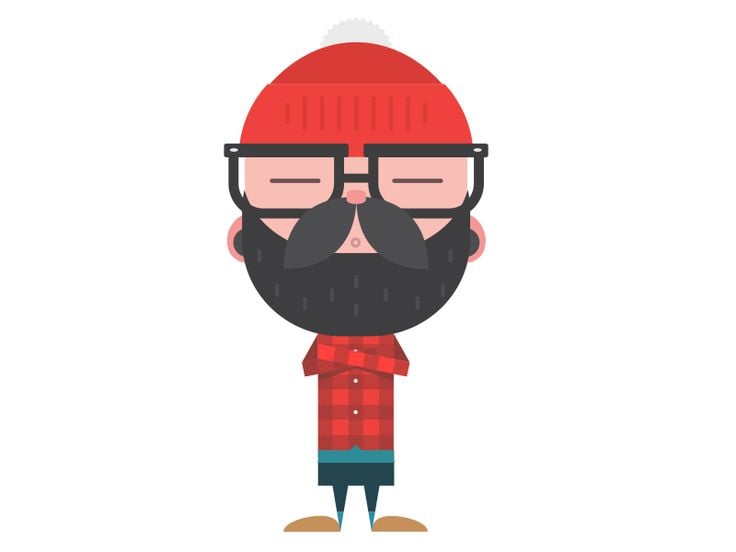 Posted by
Andy Smith is a veteran journalist and copywriter. Andy writes about hospitality, retail, senior living and higher education topics for influence group.
Join us at HotelSpaces!
A One of a Kind Retreat for Hotel Development, Design & Construction Leaders.
Oct 8-10,2023 | Frisco, TX
Learn More