Modern, minimalist and industrial are not typical terms associated with the Florida Keys, but The Perry Hotel in Key West, is putting a fresh spin on the image of a Florida island getaway.
Adjacent to the 220-slip Stock Island Marina, The Perry Hotel opened in May 2017, with construction lasting just over a year. The 100-room boutique hotel was a partnership between Matthew Strunk of Longstock II and experienced South Florida developers, brothers Brad and Warren Weiser.
With waterfront views from every room, The Perry Hotel and the Stock Island Marina Village feature an onsite distillery, artist studios and work by local artists, a waterfront pool, and two signature restaurants -- The Salty Oyster Dockside Bar & Grill, a casual outdoor bar and grill, and Matt's Stock Island Kitchen & Bar, the property's award-winning restaurant featuring American coastal comfort food.
With HotelSpaces heading to Key West this fall, Brad Weiser, Principal with Hostmark Hospitality, shared insights, based on three decades in the industry, on the trials of building in the Keys and the unique challenges The Perry faced. Overall, he admits, the sailing has been surprisingly smooth.
A Tremendous Opportunity
Though just five miles east of Key West, and easily accessible on Hwy. 1, for many years Stock Island was overlooked as a possible tourist destination. Until recently, it was known solely as an industrial area, commercial fishing hub, and as a living community for artists and workers priced out of Key West. It's also home to the Keys' only golf course, and several smaller, working marinas.
"Stock Island was made up of commercial fisherman, shrimpers and affordable housing for many of the Key's workers. Today all of this still exists, but now we also have an amazing working waterfront and great resorts, while still offering housing for Keys workforce and families," Weiser added.
The developer credits much of the project's success to the work of his partner Matt Strunk, who began acquiring the parcels that became the impressive Stock Island Marina Village in the early 2000s. Strunk and Weiser teamed up when Strunk was looking to collaborate with a "hotel expert." Strunk opened the marina late in 2014; Strunk and Weiser began making plans in 2015.
"Matt had done the heavy lifting on the entitlement side; we just had to get the construction documents approved. A lot of the footprint process was already approved," Weiser added.
Funding the project was relatively straightforward, Weiser said. "From the financing side of things, I don't think the banks that really know Key West view this as a big risk. It could be perceived as a risky location, but lenders really view it as part of Key West. A new state of the art marina and beautiful waterfront were strong selling points too."
Creating a property that reflected this environment—artistic and industrial, rather than the bright pastels Key West is known for—was important to the developers.
"What we really tried to do was incorporate the unique aspects of Stock Island into the design—to bring that industrial feel into the property, but still make it comfortable for somebody coming down for a resort vacation," Weiser said.
The Challenge of The Keys
From flood risks to projecting endangered species, construction in South Florida always involves environmental studies. Fortunately, much of Stock Island (especially the area surrounding the Marina) had undergone testing in the recent past. So there were few surprises.
"We got lucky. There were no issues affecting the big concerns. No problem with mangroves, or disturbing sea life." said Weiser.
Once the project was approved, there were a few obstacles during construction.
"When construction began, interior design on the guestrooms was done, but not for the public spaces. We were under fairly significant time constraints," said Weiser. At this point, he turned to his daughter, interior designer Blaire Weiser, urging her to mix creativity and speed, as time was of the essence.
Despite the tight schedule, progress was smooth. At one point it even looked as though the project would be completed ahead of schedule. Then, completion of the hotel's main electrical transformers was delayed during the 2016 December holidays.
That's when Weiser's 30 years of experience came to the forefront. "We were struggling, but you've got to be good at managing projects. You've got to be flexible and able to find ways to work around delays like this without it costing more," he explained.
"You look at your schedule and ask, 'What does the transformer affect?' You can't put in air conditioners without transformers and you can't put in wood floors without air conditioning. So, you find ways to modify and make it happen."
He added, "A year and a half after opening, it seems like no big deal, but it was an intense time when it was happening."
Finding Local Contractors Worth the Effort
It's not always an easy proposition, but Weiser was fortunate to find strong contractors based in the Keys, which helped accelerate his timeline. "From an economic perspective we wanted to keep it local. Certainly, in the Keys, it's very challenging, but we were lucky to be able to use two local general contractors to do the construction and that was part of the reasons we were able to work so quickly."
"We used mostly local subcontractors, too. Although there were a few we couldn't' find. We went to Miami for a pool builder and our contractors brought in a few other subcontractors form other locations for other specialties."
"However, our electrician, plumber, air conditioning and concrete were all local Key West contractors,"
"Some steel came from outside Key West and our tile installer came in from Ft. Myers. They were on the job for four months and some of the team rented apartments for the duration."
Not Over a Junkyard!
A point of clarification—a widely circulated article reported that The Perry was built over a former "junkyard." "It's a great story, but it's not true, explained Weiser, who added that it was built on land that housed old fish processing plants.
Incidentally, Stock Island produces a lot of the yellowtail snapper served in the U.S., as well as much of the famous Key West Pink shrimp. "This is where it's happening. It's a serious business."
Built Strong
Not surprisingly, standing up to flooding and high winds are issues with any new construction in South Florida. Weiser and his team knew what they were up against and planned accordingly.
"We chose to put in a generator that covers 100% of the property," he said. "A lot of times, developers choose to put in just enough (backup generator power) for light safety, but we can operate at 100% if power is lost. That includes kitchens, air conditioners, everything."
The Perry also had to be built at a higher elevation to project against flooding. "You dig a hole and you reach water quickly," he said. "And there are flood heights we have to build above."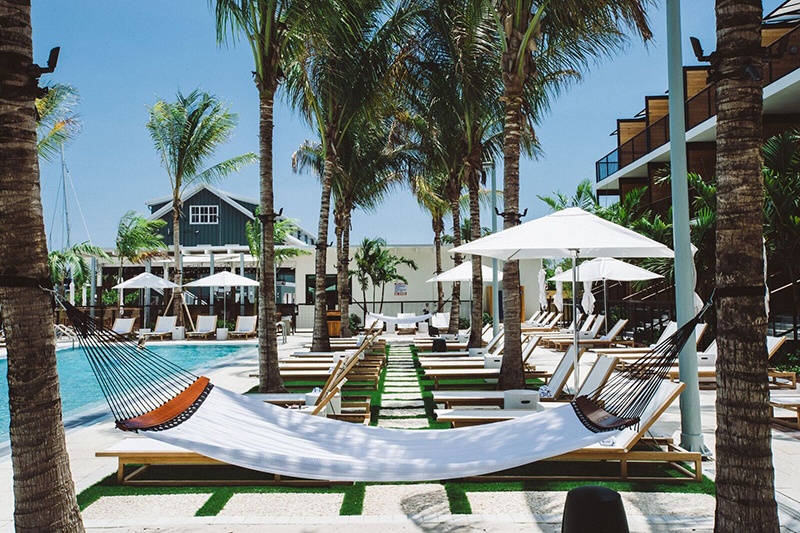 Reinforcement is essential to fend off hurricanes. "Hurricane codes in South Florida have gotten progressively better over the years and everything has to meet that code, which is significant. Hotels must withstand winds of over 180 miles an hour."
He continued, "That's also why it's more expensive to build in in South Florida. In addition, all our windows are impact glass, you can't build down here without putting that in."
The Wrath of Irma
The Perry's strength was put to the ultimate test just a few months after its grand opening, as a series of devastating hurricanes whipped through South Florida. Hurricane Irma a Category 5 storm, caused almost $65 billion in damage, making it the fifth costliest "tropical cyclone" on record.
While some landscaping was destroyed, The Perry's structure withstood the storm with minimal damage, which Weiser attributes to both smart planning and good fortune.
"Irma hit us on September 9th and 10th. We were lucky, although we had a lot of landscape damage that had to be fixed, there was very little physical damage to the hotel. We were able to reopen a few days after the storm," said Weiser, who added that the Perry housed FEMA employees for many months during the recovery efforts.
An Appetite for Something Different
The Perry's fresh approach has earned critical praise. Architectural Digest named it One of the 12 Best-Designed Hotels of 2017, grouping it with the Hotel de Crillon in Paris and The Waldorf Astoria in Beverly Hills. Critics have singled out the public spaces, where walls accented by vintage boat propellers have become one of the hotel's signature features.
Just as important to Weiser, word-of-mouth reaction has been extremely positive. "One of the things we continue to hear from guests is how much they appreciate our modern and inspired design. People love what we've done, and the positive feedback has been overwhelming," Weiser said.
Despite the boutique hotel's success, the threat of hurricanes and strict regulations mean a surge of new development in the Keys isn't likely to take off.
"It's the Governor's office that help make decisions on whether to allow growth or not," he said. "One of biggest reasons they restrict growth is based on traffic in and out of the Key's. [If] …a hurricane is approaching, there's only one road out of town."
---
Join us in Austin for HotelSpaces '19 to learn about the latest trends in hotel development, design and construction.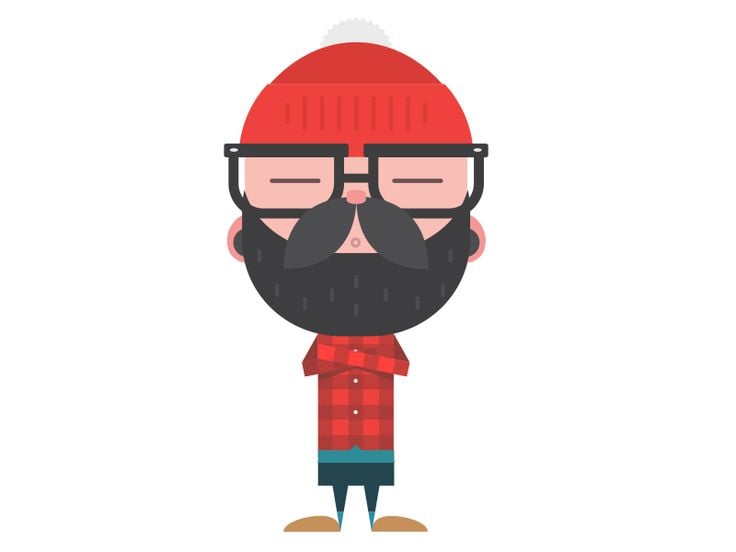 Posted by
Andy Smith is a veteran journalist and copywriter. Andy writes about hospitality, retail, senior living and higher education topics for influence group.
Join us at HotelSpaces!
A One of a Kind Retreat for Hotel Development, Design & Construction Leaders.
Oct 8-10,2023 | Frisco, TX
Learn More