Within the hotel industry, one will find that Birmingham, UK-based BLOC Hotels is shaking up a number of established models—creating more efficient spaces for business travel, using minimal design and modular construction.
Built in 2011, BLOC's first hotel was in Birmingham's Jewellery Quarter (77 Caroline St.). Its second—a 245 modular unit hotel built above, rather than adjacent to, London's Gatwick International Airport—opened in 2014. Development of another Birmingham property, a high rise, is underway, with additional projects set to open over the next few years.
Co-founder, Colin Graham refined the vision and maintains the high standards of BLOC's brand. Emerging from a background of interior design, lighting design, and procurement, he brings an outsider's approach to hotel development, one emphasizing tight control, heightened efficiency and a contempt for all forms of waste. Graham shared thoughts on BLOC's approach to design and construction with HotelSpaces.
Inspiration
Though BLOC's properties have been compared to Japanese "capsule hotels," Graham's inspiration and insights came from on-the-job training while working on a large project in the Mideast.
"In 2006, I was traveling back and forth to China to design and prototype bespoke steel boxes for a major roll-out for a major brand," he said. "Then at the end of 2008, the financial world collapsed, and the project was shelved."
However, collaborating with a small team, including Rob Morgan, now BLOC's Managing Director, Graham continued, "We decided to take that and twist it to a more European-centric hotel. The design of this (unfinished) project was different, but I learned from it and BLOC came out of that."
Efficient, Luxurious, Minimal
Focusing on short-term travelers, BLOC seems to have identified a balance between luxury (custom designed climate-controlled rooms, pocket sprung king-size beds, monsoon showers, plush towels, etc.) and minimalism in square feet and storage. They've also eliminated large lobby and reception areas, as well as restaurants and minibars. The typical BLOC hotel room is a super-efficient 11.5 sq. meters.
Graham elaborated on their choices, which were based on both market research and the instincts of BLOC's founders. They've kept the things they personally valued, and, with minor exceptions, feedback has been universally positive. One tweak based on guest feedback—in some instances BLOC has replaced wet rooms with bathrooms featuring separate showers to avoid "wet sock" syndrome when guests re-enter the bathroom after a shower.
"If you're on a short stay, what's important? You need a good quiet room and a comfortable bed. You don't need a great deal of space. We've just eliminated those things that weren't required. A big comfortable bed, a great shower, good Wi-Fi and a nice quiet room with a design edge to it," he said, adding that everything else has been made as straightforward and intuitive as possible, from check-in/out instructions on guest phones to the buttons used for each light. "It's all really clear."
BLOC has trialed and had great success with 33 longer-stay apartment units in Birmingham. With a kitchen area, separate bedroom and additional storage, these units max out at about 20 sq. meters. Moving forward, these will be a part of the offering where appropriate.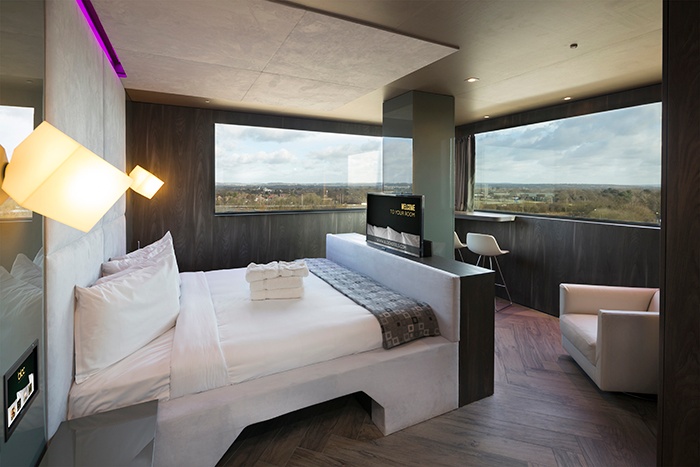 Tight Timelines
BLOC's construction methods sound like the blueprint for a Hitchcock film, where everything is so thoroughly planned during the development stage that filming (in this case construction) is almost a formality.
"It's all controlled in a factory environment. The idea is to be able to understand your program early on the process, how long it will take and how much it will cost," Graham explained. "With our approach the whole process is more efficient and controlled. It's in your hands rather than those of a contractor. Most of the time if you go to a major construction site in the U.K. or U.S., you'll have various subcontracting teams; you're never sure of the quality of the crew you've got. Our approach is a lot less wasteful."
He added, "We use a fully [paneled] system that goes together quickly every time, that's pre-designed to fit every room. There's no cutting and parts are installed quickly."
In practice, BLOC's approach has saved massive amounts of time. "Our Birmingham project would have taken 15 months from scratch, including demolition." Instead, assembly lasted less than 25 weeks. The rooms were built to BLOC's specifications at a facility about 60 kilometers from the site and "assembled by teams that follow the process".
Long-term, Graham is excited by the prospect of building larger properties. "If you buy 5,000 rooms from a factory, you gain economies of scale while having more control over the process. We're trying to implement that approach in every form."
Seamless
BLOC's high-tech approach and commitment to minimal staffing have been slightly exaggerated, Graham said. Reports that the 245-room Gatwick property operated with just two hotel employee are a bit outrageous.
"We're very efficient, but not quite that efficient. Our Birmingham property has 103 rooms, with five full-time staff, with an outside contract for cleaning," he said.
"Though we have two people working the desk at Gatwick, you can book a room on your phone and check out on your phone and never have to speak to anybody," Graham explained, adding that the human touch hasn't been abandoned. "We pride ourselves on good customer service. So if you want or need to speak to somebody, you always can."
He emphasized the significance and value of the Gatwick hotel's reliably short wait times. "You never see a queue at reception and if you look at other hotels in the airport, there's a permanent queue of people waiting to get in. Our maximum is two minutes at the front desk; at the Hilton, it can take 15 minutes."
Take Control!
Obviously, a big believer in modular design and prefabrication, Graham sees this approach as a means to an end---if the original vision and design are strong, the fewer outside hands that touch a project, the better the final product will be.
"From a build perspective, make the process as efficient as possible," he advised developers.
"The more people involved in the process of building a hotel, the harder it will be to make them understand brand standards. If you're in a position where that can be done before you get to the site—where people will just have to build the shell and put the wires in the right places, rather than a traditional construction model—you'll be saving huge amounts of time. And you will be getting what you want every time, rather than fighting with contractors who will try to tear into your specifications."
He added, "Control your product; control your efficiency and process."
Is Modular the Future?
BLOC is pursuing an ambitious timeline, which includes expansion of its Gatwick location.
"We're quite aggressive in growth and we're approached constantly by people wanting to take our brand and help us push it out there," Graham said. "There will be a minimum of two more hotels starting in 2019; it's a task of finding the right sites for development."
As the BLOC brand grows, he believes that while the prefab approach will continue to gain ground in Europe and the U.S., traditional hotel brands are still too rooted in tradition to go all in.
"YOTEL is not really a modular project now, but they are more efficient in their use of space. Moxy, Motel One and others are out there doing similar things," he said.
"However, most of them miss some of the main points because they're traditional hoteliers trying to change, rather than coming from a new perspective. Theirs is a slightly compromised version. They still have a big reception area and big food and beverage area. They're run by people who've been in the hotel trade for too long."
---
Join us in Austin for HotelSpaces '19 to learn about the latest trends in hotel development, design and construction.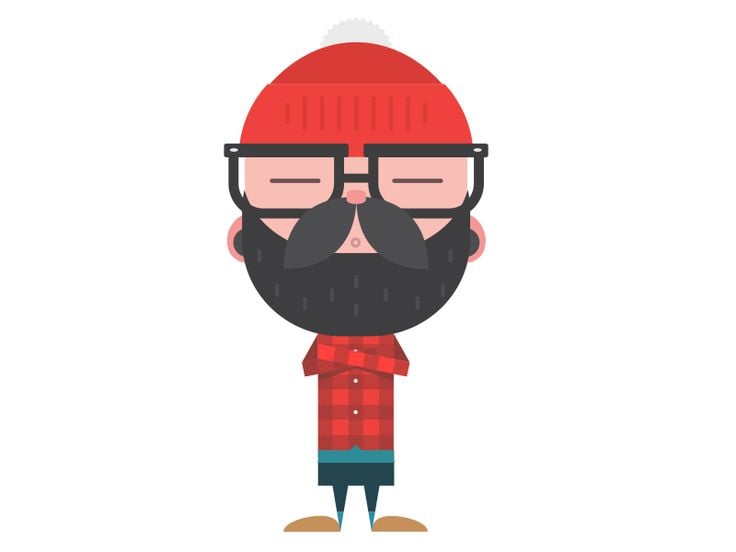 Posted by
Andy Smith is a veteran journalist and copywriter. Andy writes about hospitality, retail, senior living and higher education topics for influence group.
Join us at HotelSpaces!
A One of a Kind Retreat for Hotel Development, Design & Construction Leaders.
Oct 8-10,2023 | Frisco, TX
Learn More