In less than a decade, social media has fundamentally changed the way we interact with the world and with each other. This isn't really news; most people who remember the days before Facebook can identify this. What is news, however, is the extent to which this revolution in communication has permeated ALL aspects of modern life.
This includes architecture, as Marc Kushner explains in a recent talk at HotelSpaces. The co-founder and CEO for Architizer and Hollwich Kushner notes that there is a revolution taking place in architecture, and it is one that is directly related to the revolution that has occurred in communication. It is one inextricably tied to smartphones, Snapchat, and Instagram, and one only made possible through incessant selfie-taking and filtered photo documentation.
A Shift in How We Consume Architecture
Americans spend 90 percent of their time indoors, Kushner says. That's an enormous amount of time spent inhabiting and engaging with a built environment – with architecture – and it impacts us in ways we don't even consciously related to "architecture."
Kushner recalls his childhood home and being an awkward, painfully self-conscious 12-year-old. His bedroom was separated from the bathroom by a hallway that was open to the living area below it, so every time he took a shower and walked back to his bedroom, dripping wet and wrapped in a towel, he was in full visibility of everyone who might be in the living room at that moment. He hated that house. "THAT'S the power of architecture," he says, "those visceral emotional connections we make to certain places."
"The revolution in communication, and the dominance of social media, has led to architecture becoming an integral part of our lives more than ever before."
Now, instead of just seeing the same buildings every day as part of our commute (probably to the point of no longer even noticing them), and maybe enjoying the occasional architectural photo spread in a glossy magazine, architecture is a big part of every social media user's daily life. We see our friends, colleagues, media outlets, and photographers posting beautiful photos of beautiful buildings, and of themselves interacting with them: looking out over balconies or looking up from the bottom of spiral staircases. All of these photos are evocative of place and space.
People feel intimately familiar with buildings they've never seen in person. Now people can immediately recognize a Frank Gehry building even if it's in a city thousands of miles away that they've never stepped foot in.
That intersection of technology and architecture, Kushner says, is the culmination of a trend in architecture that has been evolving for the past 35 years: the trend towards being both boundary-pushing and emotionally symbolic at the same time.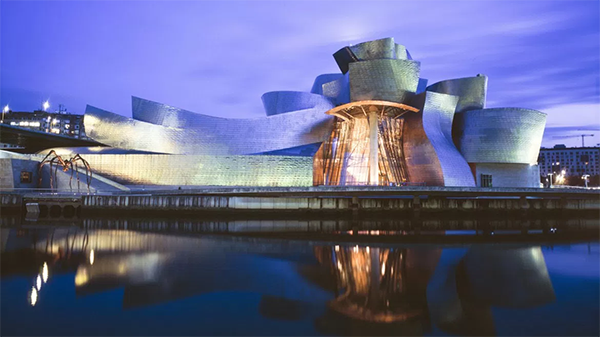 Guggenheim Bilbao building is one example of how technology can bring architecture to everyone, no matter the location.
Kushner uses the example of Gehry's Guggenheim Bilbao. Critics, academics, and the general public all united in support of the building, and the media galvanized around it. Tourism to Bilbao increased 2,500 percent, and the New York Times called the building a "miracle." Gehry became a "starchitect" and his distinctive style became a visual synonym for tourism and culture. The building was documented exhaustively, "liberating" it from its physical site, existing everywhere at once to millions of people who have never and will never see it in person.
Unparalleled Engagement
There had never before existed such a feedback loop in architecture, but now it is here and it allows architects to respond to the instantaneous connections people make to new and innovative forms. Architects are able leverage that new instant feedback loop to make better, smarter buildings that speak to the public in a way they could never do before.
Social media also allows architects to "short-circuit the collective memory" of the public, so that a building that hasn't even opened yet is already so familiar because of photorealistic renderings posted on social media that allow people to interact with and express opinions about the building without even seeing it. This was a little trick they used when developing their Pines Pavilion project, and Kushner says it is an "incredibly powerful" tool.
His theory on the relationship between communication technology and architecture was vindicated when Gehry collaborated with Mark Zuckerberg on Facebook's new headquarters and the public's first look at the building came from the 50 Instagram influencers who were invited to tour it before anyone else, including the media.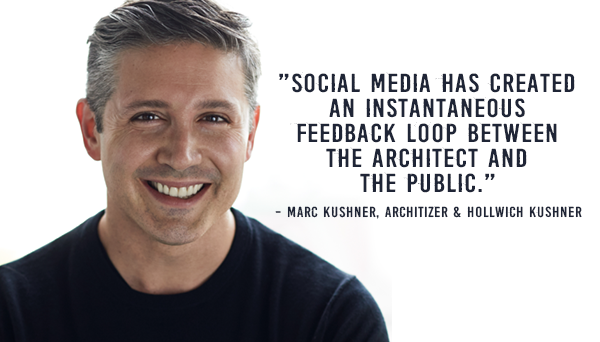 "The comments [on those posts] are the way architecture discourse will be in the future," Kushner says. "Everyone feels free to express themselves about architecture, and this shift means that the public is ready for a different kind of architecture than we've been serving them and architects are ready to listen and serve them the things that they want."
Finally Kusher examines another of his firm's projects, the University of Pennsylvania Pennovation Center. The "pitch bleachers" are his favorite detail, where entrepreneurs can pitch their ideas to a small audience. These pitch bleachers are all over Instagram, where entrepreneurs show off pictures of themselves showing off their ideas inside of this building. "That's the power of architecture that media unleashes," he says.
Ushering in the New Golden Age
Architecture does not just reflect society; it shapes society. It is where people take vacations, where they send their children to school, the homes in which they raise those children, and that walk from the bedroom to the bathroom. Architecture should be a joyful thing, because these are the places where people spend most of their time, and Kushner wants people to feel good enjoying them.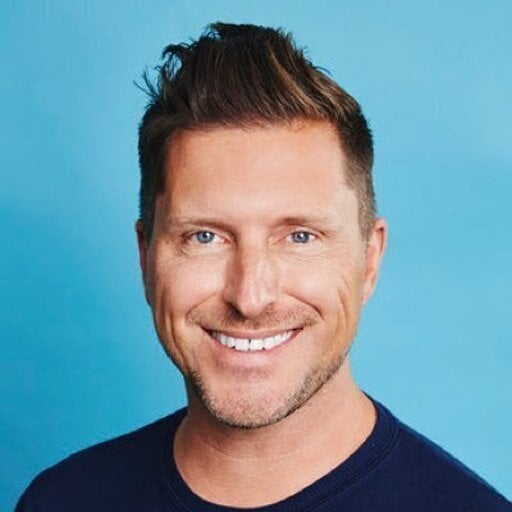 Posted by
Michael P. Owens is Co-Founder + Managing Partner of influence group, a leading producer of content and events in real estate, technology, design and construction.
Join us at HotelSpaces!
A One of a Kind Retreat for Hotel Development, Design & Construction Leaders.
Oct 8-10,2023 | Frisco, TX
Learn More