For 1 Hotels, the impact of Hurricane Sandy on construction of its luxury Brooklyn property brought home the importance of the brand's eco-friendly mission.
"This project, located along the waterfront in Brooklyn Bridge Park, was four-and-a-half years in the making," said Waad el Hadidy, Design Director with SH Group, the managing company of 1 Hotels. "Part of the reason it took so long was that we had already designed the building and had provisional approval when Hurricane Sandy hit."
Afterward, New York City zoning laws changed, requiring that all new waterfront buildings be raised three feet above the ground. With the new laws in place, 1 Hotel's team faced a significant challenge—how to maintain its exciting design features while "squashing three feet of building. It was a massive redesign effort that took a year."
"Nature is an incredibly powerful source and this experience made us realize how important it is that we're a brand that is about sustainability with this natural occurrence having a very tangible effect on our building," El Hadidy asserted.
Hospitality Sector Embracing Change
An innovator in both common-sense and creative green initiatives, 1 Hotels is setting the standard in many categories, including its focus on the use of repurposed and recycled materials in all the furniture featured in its properties.
With additional properties in Central Park and South Beach, and several more scheduled to open domestically and internationally over the next year, 1 Hotels is developing a set of sustainability guidelines it believes will set an industry standard.
"Water filtration and using reclaimed and recycled materials will be essential," she says. "Also, working with local artists and manufacturers (whenever possible) will be a must. There has never been a shortage of talent near the locations we've built."
A groundbreaking public/private partnership in collaboration with Brooklyn Bridge Park, with the 194 hotel and 106 residential units designed to be integrated into the park's natural environment, features a range of green features including a strict "no plastic bottles" rule, and shower caddies made from recycled materials.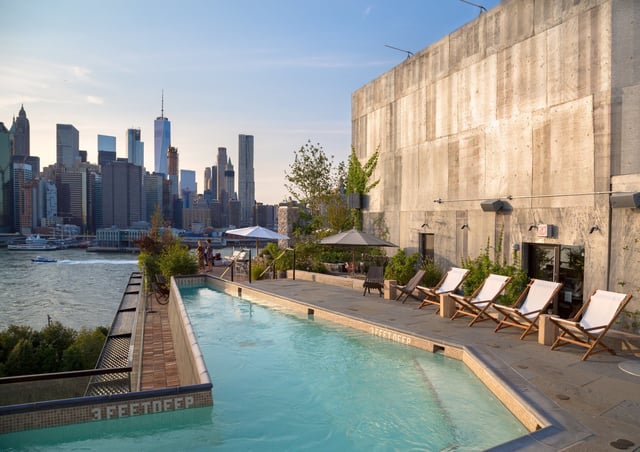 1 Hotel Brooklyn Bridge rooftop pool.

1 Hotel Brooklyn Bridge is powered by 100% wind power energy. Even the ground the project stands on is repurposed--a section of the park known as Pier One, once a cargo wharf.
"We feature a five-minute timer – an hourglass that lets you measure how long you've been showering. It's more of a thought-provoking curiosity thing. It's not going to turn the shower off for you," El Hadidy explained. Fed by exposed pipes that run through the lobby, a giant underground tank provides a rainwater reclamation system, with collected water irrigating park vegetation.
"We also offer a feature called 'one less thing' in Thanksgiving. We make it possible for guests to place any extra clothing in a cardboard box that we then donate to Housing Works."
Whenever possible, 1 Hotels have replaced plastic with wood. Even their room keys are created from five different types of recycled wood. In addition:
All hangers are made from 100% recycled materials

Paper consumption is minimized. Each room comes with a reclaimed chalkboard for note taking.

All 1 Hotels are filled with thousands of different plants. The lobby and landscaping of the Brooklyn Bridge Hotel includes plants also found in Brooklyn Bridge Park.
Unexpected Innovators
While 1 Hotel's green mission is front and center, several large luxury brands also have made significant strides in sustainability, including The InterContinental Hotels Group (IHG) and MGM Resorts International. known for its Las Vegas casinos.
The InterContinental Hotels Group launched its IHG Green Engage Program in 2009, to help hotels manage and report their use of energy, carbon, water and waste. Lindsay Wilkinson, Director, Corporate Responsibility – Environmental Sustainability and Commercial Integration at IHG, says the company is working hard to meet its goals.
With over 5,300 hotels worldwide, IHG has developed more than 200 solutions across four levels of certification that its hotels can implement on their properties. As a global brand standard, all hotels are required to complete at least ten Level 1 solutions, with most implementing additional solutions voluntarily. "These solutions span all aspects of hotel operations. We committed to substantially reducing our carbon footprint" Wilkinson says.
However, with such a diverse portfolio, a cookie cutter response doesn't work, she says. Experience has taught IHG to adapt its conservation approach by region. "California was in a drought a number of years ago. Because of that specific water stress, that set of hotels needed bespoke support to achieve conservation goals," she says.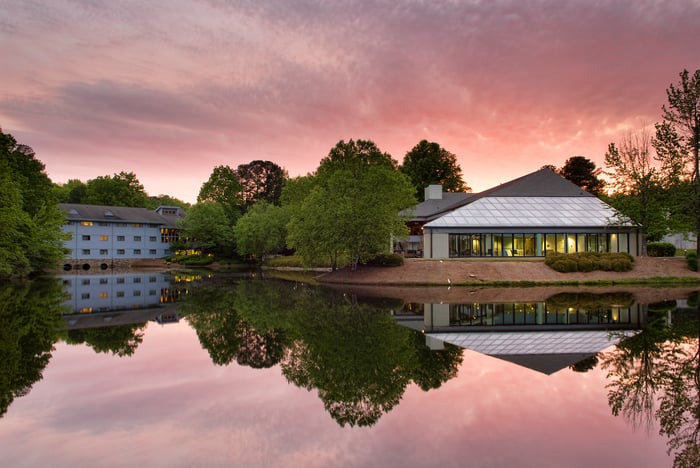 IHG's Crowne Plaza Atlanta SW - Peachtree City.
They've also realized the importance of focusing on low-hanging fruit—high-impact goals that can be relatively easy to achieve. So, in 2018, IHG is focusing on converting properties to LED lighting. "We know energy consumption makes up a large portion of hotel costs and the ROI for upgrading lighting is compelling," Wilkinson says. "That has a big imprint on reducing our carbon footprint and it's easy to implement."
Other conservation measures have been implemented on a case-by-case basis. One Crowne Plaza hotel in Peachtree City, Georgia is installing a commercial rooftop solar PV system, which will generate 25% of the hotel's electrical needs. Upon completion, hotel guests will also be able to see live data on an LED display in the lobby including solar power output.
Turning The Vegas Strip Green
Known for going big, Las Vegas – the mecca of bright lights and conspicuous consumption – has actually embraced a green ethos in a big way, said Todd Megrath, MGM Resorts Executive Director of Sustainable Development.
"Vegas is actually a fantastic location for building sustainability for a number of different reasons. The competitive nature of the casino industry is one fantastic reason. Also, there's the location of Las Vegas. We're kind of an island in the desert and each of our resorts is its own small city. We need to understand that and work to be as sustainable as we can be."
Megrath adds, "To give a sense of perspective, 43 million people passed through our airport last year."
MGM's sustainability team got off the ground in the early 2000s, working with other casinos and community organizations to plan and execute the CityCenter Project, a 16,797,000-square-foot, mixed-use, urban complex spanning 76 acres located on the Vegas strip.
"We have a large environmental footprint; we're pretty much the biggest middlemen for consumption that I can think of," he said. "MGM wanted to set standards for the next generation and we set out to become experts on this topic."
Areas of Focus
For well over a decade, MGM Resorts has focused on several areas of conservation, including:
Energy and Water.

All MGM Resorts

'

rooms and suites are held to high conservation standards, with water reduction tracked in each room.

Supply Chain & Green Building

and the Impact of their Initiatives on both their consumers and vendors.

Education.

"The moment we start to educate employees, guests, communities and partners, our growth becomes exponential at that point."

Waste and Recycling

. "We have active recycling in all of our resorts and are continuing to expand these efforts," Megrath said. "One of our biggest endeavors goes toward eliminating food waste. If we host a convention for 40,000 and six percent of those people don't show up, the food designated for those people gets diverted – cleanly and safely – to a local food bank. The food gets flash frozen in large blast freezers and can then be shared with the community as the need arises."
A Massive Power Station
While a number of MGM Resort properties around the world feature solar panels, by far its biggest development in this arena is a 100 megawatt photovoltaic array, currently under construction about 25 miles south of Las Vegas.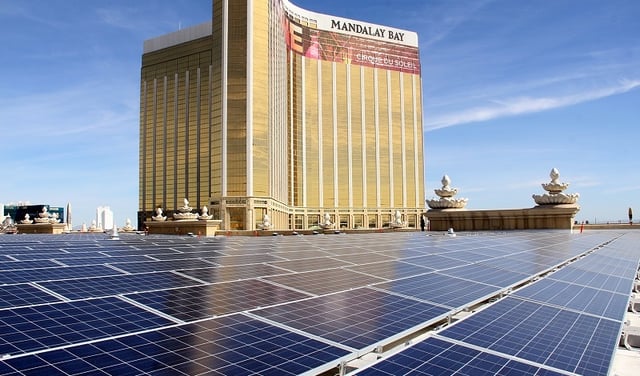 Solar panels on the roof of the Mandalay Bay convention center.
Set to open in 2020, the solar project is being developed through a partnership with Chicago-based renewable developer, Invenergy.
"It's a utility-sized solar deployment with a direct tie-in to the grid for our resorts," Megrath says." By the time its fully functioning, it should supply about 90 percent of the daytime energy for our 13 Las Vegas properties."
Worldwide Green Initiatives
Well beyond the Vegas strip, MGM is spreading its sustainability ethos worldwide, from projects on the East Coast to working with the Chinese government to develop the first green casino in Macau. The five-star MGM Cotai opened in January, earning a Three-Star certification under the China Green Building Design Label by the China Green Building and Energy Saving (Macau) Association.
Stateside, Megrath has been focused on MGM Springfield, New England's first integrated luxury resort and entertainment destination opening in August and the MGM National Harbor casino which opened last year on the Potomac across from Washington, DC. Developing an eco-friendly property on this site involved accommodating a polluted river, recovering from years as a dumping ground for city sewage and refuse.
"Protecting the Potomac River has become incredibly important to us, and I love this project because it includes sustainability features that help us achieve that goal, including a 700,000 gallon cistern with rooftop capture between the primary resort and the garage to help us capture and process stormwater and runoff," he said.
Using Leverage for Good
Though 1 Hotels has a small portfolio, its ahead-of-the-curve approach to sustainability could help raise the bar, not only for other boutique brands, but also for larger ones, which can have tremendous positive impact on the environment, thanks to their size.
"We have such an opportunity to bring things to scale. If you're looking at deploying a new recyclable straw, we have the opportunity to do that and help bring the overall price down," Megrath stated.
"I think as an industry we understand the kind of opportunities we have to make an impact. We have such an opportunity to reduce consumption."
---
Join us in Austin for HotelSpaces '19 to learn about the latest trends in hotel development, design and construction.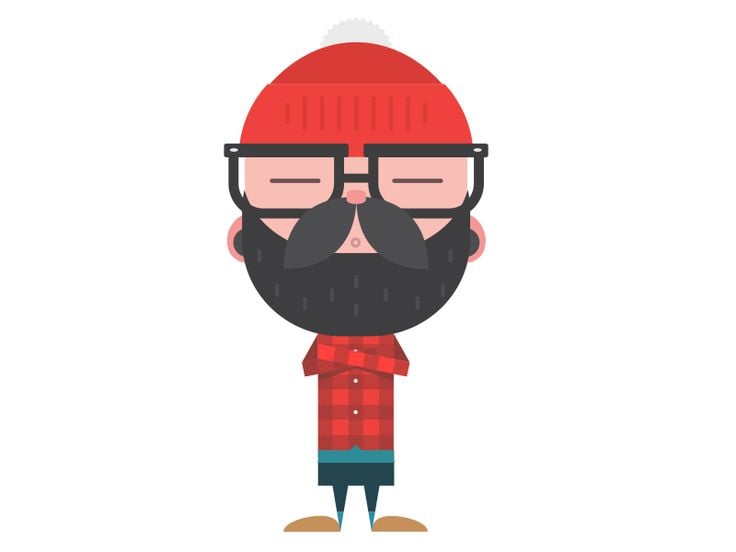 Posted by
Andy Smith is a veteran journalist and copywriter. Andy writes about hospitality, retail, senior living and higher education topics for influence group.
Join us at HotelSpaces!
A One of a Kind Retreat for Hotel Development, Design & Construction Leaders.
Oct 8-10,2023 | Frisco, TX
Learn More