Some of today's most dynamic, architecturally intriguing hotels are adaptive reuse projects that have transformed car factories, parking lots, shopping malls, theaters, offices, apartments, nursing homes, warehouses, and banks and other older structures into modern hospitality destinations.
The term simply means the reusing of older buildings or sites for a new purpose. As a trend it seems to have piggybacked on the recent surge of redevelopment of urban centers abandoned in the 1960s-80s. Often, but not always, adaptive reuse projects serve as a compromise between demolition and pristine preservation of buildings with historic—but little commercial—value. Tax credits for restoring older buildings have helped accelerate this trend.
A few exciting examples of this trend include:
Cincinnati's The Summit, a property of Dolce Hotel and Resorts by Wyndham. In its previous lives, it was a NuTone factory and then a parking garage.

Singapore's Warehouse Hotel, once a spice warehouse in the city's red light district.

Hotel Covington in Covington, KY, inside the former Coppin's Department Store.

The 21c Museum Hotel in Kansas City, MO, built inside a former Ford Model T Factory.

Hyatt Regency Minneapolis and New Orleans' Eliza Jane, a former shopping mall and collection of warehouses, respectively.

London's The Ned, luxury hospitality in a historic Soho Bank, a collaboration between Soho House & Co. and NY's Sydell Group.
The Foundry Hotel in Asheville, NC, was adapted from a turn-of-the-century steel mill, one of several adaptive reuse developments from Charleston, SC-based Charlestowne Hotels, a management company with a portfolio made up of at least 25% adaptive-reuse hotel properties.
The developers and designers behind a number of these projects shared insights on the exciting opportunities they present, as well as the unique challenges. Not all interesting older buildings are a good fit for adaptive reuse and they delineate which risks and red flags to identify before launching a new project.
From Historic Bank to Soho Destination
Located in London's rising Soho district, The Ned is the reimagining of architect Sir Edwin "Ned" Luytens' majestic Midland Bank, built at the height of Roaring 20s. With interiors inspired by the faded glamour of 1930s ocean liners (including the Normandie), it features 250 rooms, 10 restaurants, a private member's club and a plush bar built inside the bank's enormous central vault. A swimming pool in the hotels' 2nd-floor spa was once a bullion vault.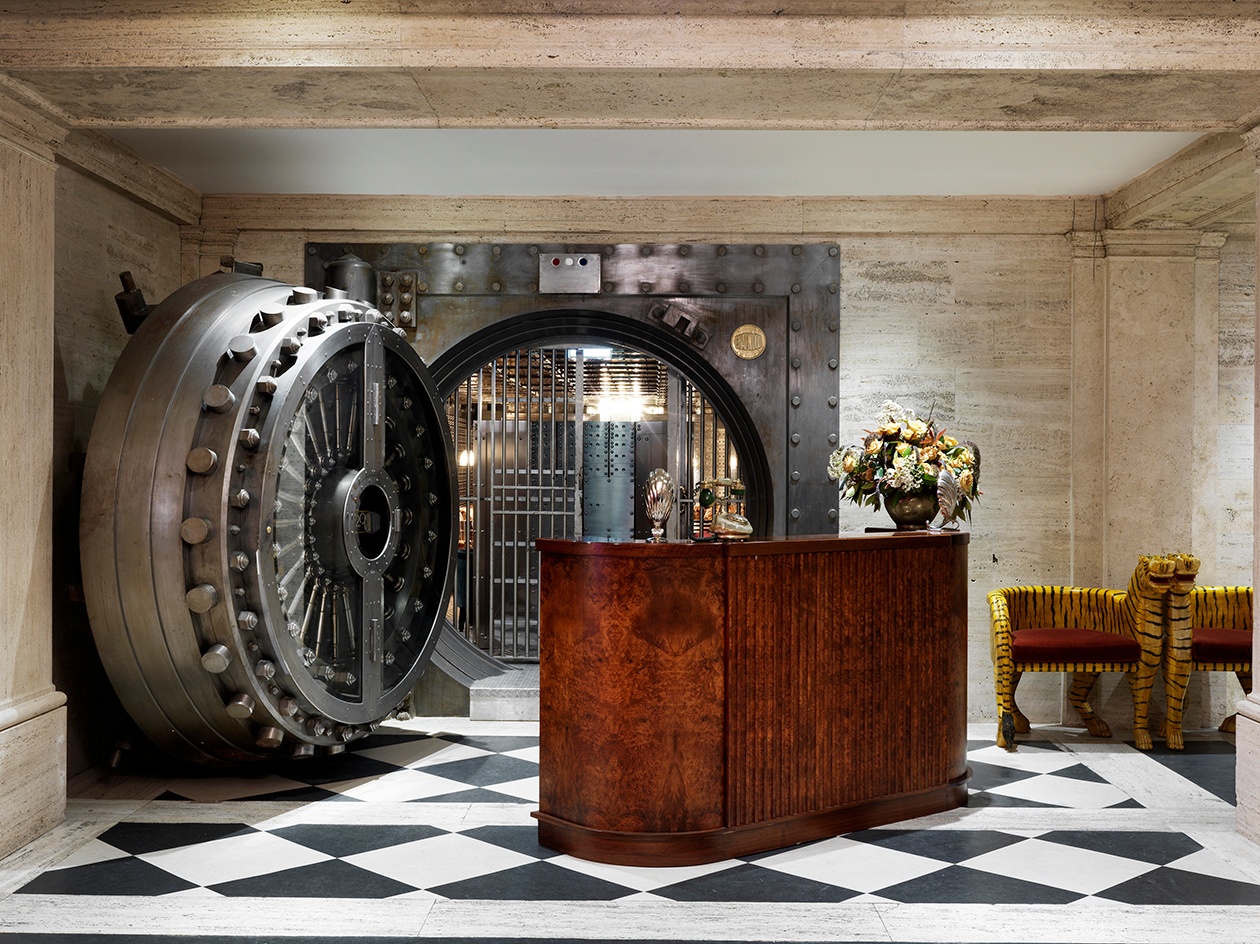 The Ned in London.
Though challenging to developers, architects, designers and contractors, at their best, essential aspects of the original properties become integral, exciting aspects of these hotels. For the Ned this includes the innovative use of its vault, deluxe countertops and dozens of majestic columns.
"When Luytens designed the bank, he installed 92 green verdite (the commercial name for either of two green stones found in Africa) marble columns and hundreds of walnut paneled countertops for bank tellers. We had to work out how to fit the restaurants and bars into the space, but the bustle of the old bank's reception area has been preserved," said the hotel's Managing Director Gareth Banner.
In many cases, features of these older buildings naturally lend themselves to the transformative touch of architects and designers, while others present more of a challenge. Sometimes these opportunities are present in the same properties.
"The old bank building offered fantastic volume in what was the banking hall and it was natural to take the natural subdivisions created by the existing bank counters and transform them into restaurants and bars," said Stuart Adolph, VP Development for the Sydell Group.
"By contrast, the bank vaults offered tricky spaces with low ceiling heights and three-foot thick walls. However, we were able to create spa and wellness facilities as well as planning back of house accommodation and plant space use."
Sweet Eliza Jane
Part of The Unbound Collection by Hyatt, the Eliza Jane (315 Magazine St.) features 196 rooms, a French restaurant and a 2,000 sq. ft. open-air courtyard. It's built inside nine 19th Century warehouses that formerly housed Peters Cartridge Shop, Peychaud Bitters Factory, The Gulf Baking Soda Co. and the Daily Picayune newspaper. The property is named for the paper's publisher in the late 1800s, Eliza Jane Nicholson.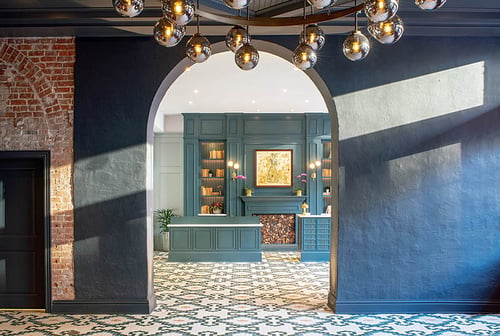 The Front Desk of Eliza Jane.
Rather than try to smooth out all the flaws and inconsistencies to create a modern look, creative developers and their design teams lean in to the seeming imperfections, turning them into virtues.
"From a design standpoint, one of the biggest challenges was dealing with different types and sizes of windows and different ceiling heights on different floors," said Mike Suomi with Stonehill Taylor, a NY-based hospitality-focused architecture and interior design firm. "We saw this as an opportunity to celebrate these differences by strategically locating suites and specialty room configurations to take advantage of the quirks. Some of our most amazing bathrooms and bedrooms were designed by us to be centered on these giant windows."
He added, "Another challenge in dealing with very old structures is the settling that has occurred over hundreds of years and the unevenness of existing materials. Here again, we decided to feature these flaws and distresses throughout and feel they add layers of richness to our design."
Suomi listed other challenges:
Structural systems and floors that can't easily be cut through or modified;
Staircases and old elevators that no longer meet codes, and
Airshafts, staircases and antiquated components that aren't removable (like bank vault doors) that then need to be incorporated into a project's design thinking.
Pinpointing Properties Ripe for Reinvention
With a number of successful projects across the southeast, Charlestowne's team has become proficient at identifying intriguing properties that lend themselves to adaptive reuse, including St. Augustine, FL's Collector Luxury Inn and Gardens (converted from nine historic homes, one dating to 1790), Nashville's retrofitted deco Fairlane Hotel, and The Bristol Hotel in Bristol, VA.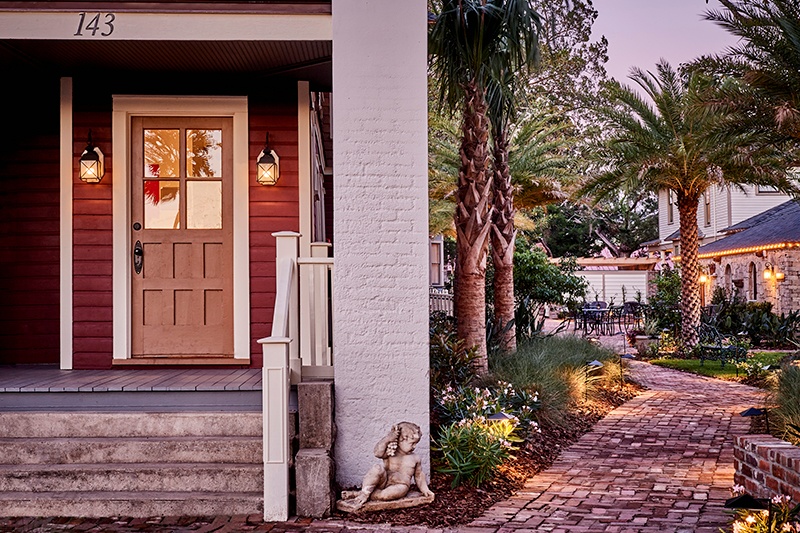 Collector Luxury Inn and Gardens.
President and COO Michael Tall has studied the topic, identifying three key areas to address before an adaptive reuse project gets Charlestowne's green light—Efficiency, Preservation and Accessibility.
Efficiency.
As an operator, it's our job to ensure the building and its layout will be able to function as a Hotel. The best way to do this is to be involved early on the with schematic designs being put forth by the architect: do we have enough storage? office space? good flow for guest arrival? Another issue that can impede efficiency is a change in traffic patterns. The Foundry encountered this problem. Once an operating steel mill that produced much of the materials used to construct the nearby Biltmore Mansion, the building's original entryway was no longer accessible due to changes of adjacent street traffic patterns.
We corrected the issue by adjusting the courtyard design to allow an alternate traffic flow that still offered guests an enjoyable and intuitive arrival experience. The key was to address the issue early on in the design phase to minimize disruption to other programming elements.

Preservation.
By being involved early on, we can also help strategize what attributes are worth preserving and what areas must focus instead on ensuring productive operations. Guests will admire the exposed brick and floor-to-ceiling windows but will be less thrilled about having to share their room's one electrical outlet. For most historic properties, the construction materials, the form and style of the property, the principal elevations, the major architectural or landscape features, and the principal public spaces constitute some of the elements that should be preserved.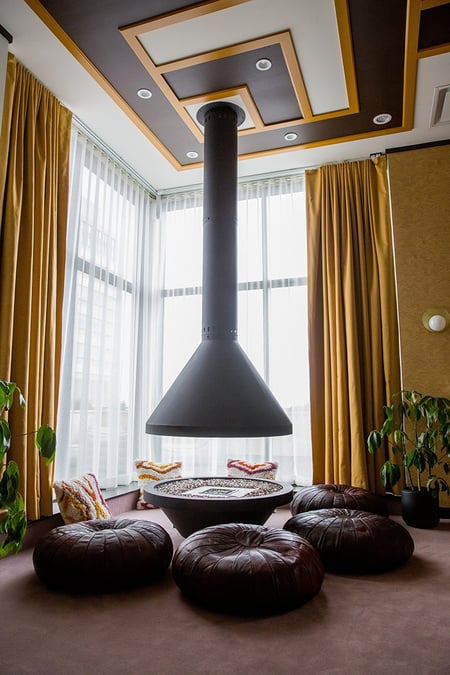 The fireplace in the penthouse of Fairlane Hotel.
Every effort should be made to minimize damage to the materials and features that convey a property's historical significance. Very small or highly significant properties that have never been altered may be extremely difficult to modify. Secondary spaces, finishes, and features that may be less important to the historic character should also be identified; these may generally be altered for operational efficiencies without jeopardizing the historical significance of a property.
Accessibility.
Buildings constructed prior to the passage of the Americans with Disabilities Act in 1990 often require retrofitting to bring the structure into compliance. For many commercial properties in urban settings, accessibility has not been a problem because these buildings were designed for easy pedestrian access. However, there are many recessed entries where the barrier to design is not the sidewalk, but the area beside the door.
An accessible door must have an eighteen-inch-wide area adjacent to the door handle to provide maneuvering room for someone in a wheelchair. When this space does not exist, which is common with recessed entrances, one alternative is the installation of automatic door openers. This is often less expensive than remodeling the original storefront and meets the accessibility requirements of federal and state statutes.
The Good, The Bad, The Unexpected
While adaptive reuse projects almost always present a range of issues, if the original structures are over a century old, they usually have "good bones."
Referencing the warehouses that became the Eliza Jane, Suomi said, "Because there are structures that were built a very long time ago, they were made with super durable materials, including iron, brick, stone, plaster on horsehair and solid wood."
Their resilience is a structural and aesthetic bonus, he adds. "These kinds of material, due to their solid composition, actually look better and better with age."
Older materials may have shown their mettle, but extensive testing is almost always a necessity.
"Testing the existing structure is vital, particularly if you are adding to the building. We spent a lot of time on the structural engineering and the complexity of adding two floors and a swimming pool to the rooftop. Designing the connections of new structures to old and transferring the loads on the building was a huge challenge," Adolph said. "We undertook a comprehensive range of surveys and investigations into the existing heritage building. These ranged from measured surveys to examination of existing structure, asbestos surveys, identification of the utilities provision, historic building assessments, façade and window surveys."
Turning Lemons Into "Vampire" Lemonade
Working with buildings that were never residential, much less luxury guests, sometimes means saying "What Now?" and finding a workaround. When handled correctly, these solutions add to the charm.
"One of the biggest challenges for designers and developers to converting non-hotel buildings to hotel uses is the efficient planning of guestrooms," Suomi said. "When a building is built for a use other than a hotel, they are designed to solve the problems of the original use of the building. In our case (with the Eliza Jane), the original use was warehousing goods related to the Port of New Orleans shipping trade in the early 1800s."
Often the window locations and spacing don't allow for easy conversion to hotel guestrooms, there are also very long internal walls that have no windows, the designer added.
"So the laying out of efficient guestrooms can be quite challenging. A secret is that the city of New Orleans is one of the only places in the US that does not require hotel guestrooms to have a window to the outside." The team worked around the windowless wall handicap by incorporating sky-lit atriums into these 'vampire room' spaces.

Happy Surprises Make It Worthwhile
In many ways, modern construction methods are light years ahead of 100 years ago, though sometimes, structurally and aesthetically, vintage features win out.
"Buildings constructed before the modern age of prefabrication and mass production are likely to incorporate high-end and well-made materials that help validate a hotel's service level. A happy surprise for us was working with polished plate glass at the Fairlane Hotel, which was the most common material for commercial windows from the mid-nineteenth century until the 1960s," said Tall.
"Polished plate glass has since been nearly eliminated from modern construction thanks to the development of float-glass technology, which produces a cheaper, but inferior, product, so incorporating this glass into the structure is a nod to history."
Retaining unique features and advertising from a building's previous life is always a great way to combine the past with the present to create a layered, distinctive environment. "One of the most interesting artifacts we have found are early 1900s Dunlop Tire signs from when the wagon and buggy repair business was at The Foundry," said Tall, adding that the signs are prominently displayed.
The Ned's Nickel Bar.
Banner lists a number of features that The Ned has incorporated. "The tapestry room is cloaked in a huge tapestry, the largest in England when it was installed in 1932. It features coats of arms from 120 UK cities and towns," he said.
One aspect of adaptive reuse vs. straightforward restoration—the freedom to incorporate not only new design features, but also historic design elements from other sources. Case in point: The Ned's saloon features an enormous, restored 18th-century chandelier from Devonshire House in Piccadilly.
At the Eliza Jane, "Two of the oddest old elements include a salvaged motor and drive belt that we've reconditioned as a sculptural element in our lobby, and a very old two-story brick outhouse that we've turned into a fireplace in the hotel's internal courtyard garden," Suomi said.
Advice to Aspiring Developers
Developers and designers offer concrete guidelines for assessing the potential of properties for adaptive use as hospitality spaces, as well as thoughts on how best to approach design challenges with ingenuity. With all the possible pitfalls, these projects should inspire developers and designers while still being workable.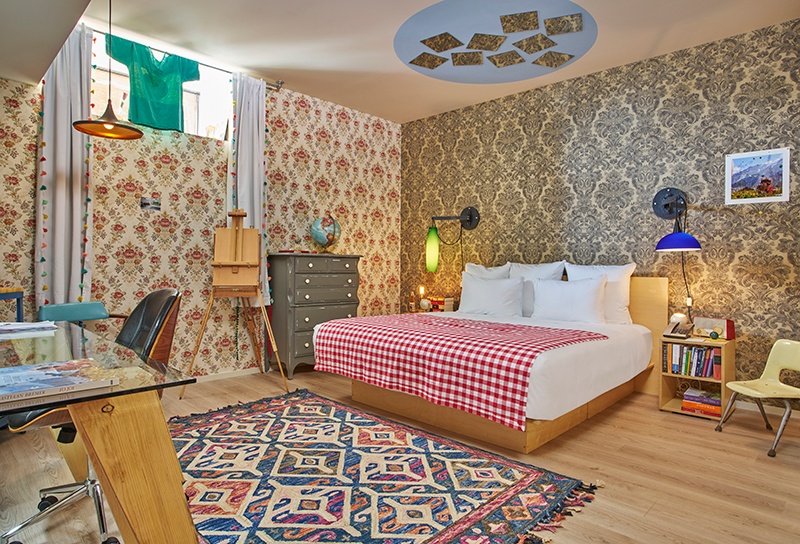 The 21c Museum Hotel in Kansas City.

Again, Tall divided his wisdom into three parts:

1) Define your objective. Especially when dealing with asset conversion, it's important to define the overarching intent of the project with a certain level of flexibility. Having a clear objective will align teams and push the project forward, but maintaining an attitude of adaptability will open you up to more opportunities.

2) Collaborate with all parties. Collaboration is needed to keep multiple teams aligned and moving towards a shared goal. Developer, Operator, and Design teams need to err on the side of over-communication to ensure each party's priorities are held in balance. Our job is to facilitate these discussions so that decisions are made with the operational and guest experience of the hotel in mind.

3) Do your due diligence. Diligence refers to the power of educating yourself on the legal, political, and economic factors that affect your project. Preservation laws and regulations exist at the state and federal level and failure to comply with them will jeopardize the project. Take the time to seek counsel from historic architects, source original materials, and research your state's permitting process. Equally important is building relationships with the local officials that are responsible for conducting the reviews and processing permitting requests.
Suomi emphasized the positive overlap of adaptive reuse and sustainable design. "In my opinion, the best form of sustainable design is the adaptive reuse of existing buildings. The amount of waste generated by the demolition of an older building is enormous and the energy and carbon footprint typically required to generate all the new materials needed to erect a brand new building in place of an old one is also huge," he said, adding that this approach is also cost-effective. "In addition to helping our environment, older buildings always have unique materials, structures and finishes that were used at the time they were built that are cost prohibitive today."
Finally, Adolph advised finding a balance between charm and practicality. "Focus on maximizing the use of the existing building in front of house space but never lose sight of needing to create an environment for the 21st Century."
---
Join us in Austin for HotelSpaces '19 to learn about the latest trends in hotel development, design and construction.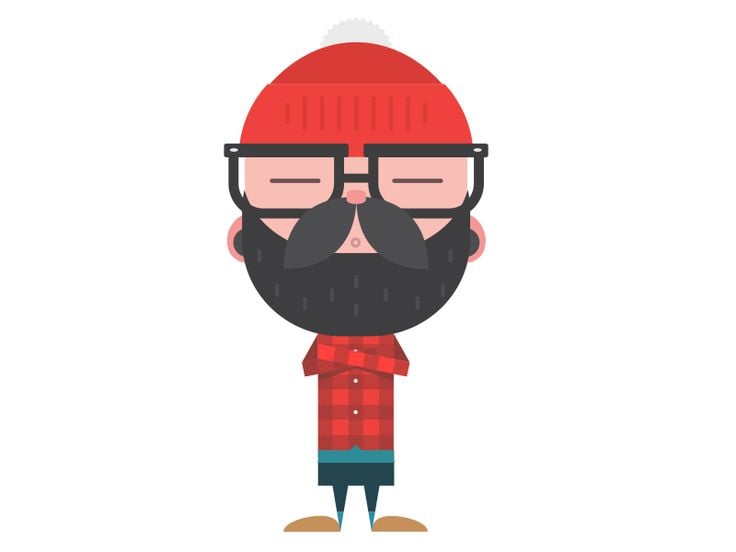 Posted by
Andy Smith is a veteran journalist and copywriter. Andy writes about hospitality, retail, senior living and higher education topics for influence group.
Join us at HotelSpaces!
A One of a Kind Retreat for Hotel Development, Design & Construction Leaders.
Oct 8-10,2023 | Frisco, TX
Learn More