Despite the turbulence of an industry in transition, the US hotel market remains a "pillar of strength."
These are the words JLL's Managing Director of Project and Development Services, David Black, uses to describe the current state of the industry. Drawing upon the commercial real estate services firm's research during a lively discussion at HotelSpaces, he said current trends are promising.
"What we've seen is hotel transactions have totaled $40 billion through the third quarter of 2017. It's down about 15 percent from the prior year, but the US, globally, remains the most active market, with over $16 billion trading," Black said.
Domestic buying has also enjoyed a healthy bump, all amid an industry evolution that has spawned significant transformation in recent years. It's a shift also being felt abroad. According to Paulo Mancio, AccorHotels' SVP of Design, Technical and Construction in South America, companies everywhere are recalibrating on a regular basis.
"We are having to learn a lot," Mancio said. "Our approach to our projects and design is changing from static standards to more flexibility."
Bigger is Better, Softer is Savvy
Rattling through JLL's figures, Black said perhaps the most radical development of late has been the spike of mergers and acquisitions. The Marriott / Starwood, Accor / Fairmont, Wyndham / Dolce and IHG / Kimpton deals have reverberated worldwide — proof companies are adopting a "bigger is better" mentality.
"Over 1,000,000 branded hotel rooms were involved in brand and parent company mergers and acquisitions since 2014," Black said.
Also making waves last year, Hilton's Park Hotels and Resorts spinoff became the second largest publicly traded REIT, behind that of Host Hotels. For Host's VP of Design and Construction, Justin Ried, this new breed of widespread collaboration will be interesting to watch.
"Brands are now focusing on the individual details of the guest room. It will result in brands building a stronger product," Ried said.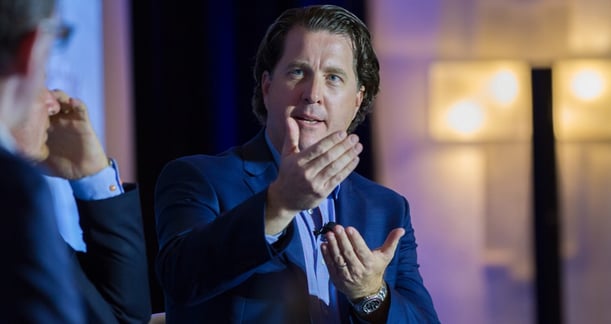 An exciting time for hospitality, Mancio said the phenomenon is forcing brands to think outside of the box. A necessary development if they're to ride out the rise of soft branding, which is also contributing to a sharp uptake in competition.
"We are putting a lot of energy in design. We're focusing on putting teams together to bring more flexibility and to bring more innovation into those brands," he said.
A New Wave of Innovation
Airbnb has been a glaring pressure to contend with, as the disruptor continues to make its presence felt.
To compete, some are taking a page or two from the "sharing economy" handbook. As well as its $168 million purchase of onefinestay, Accor is finding ways to implement "authentic experiences" throughout its own portfolio — something Airbnb has used to great effect.
"Our approach is on being local. If someone goes to Paris, they need to feel like they're in Paris. They don't want something that we might have in Amsterdam, which can be replicated anywhere," Mancio said.
"We need to create something which is more connected to the culture and the people who'll be there."
Hyatt is another company testing different distribution models, in August upping its stake in similar sharing platform, Oasis. Hyatt's VP of Design, Mari Balestrazzi, illuminated other tactics outside of the direct hotel experience.
"We've recently invested pretty heavily in wellness. We purchased Miraval, which has three existing properties," she said. "We'll learn from that and begin to implement some of their programming throughout our portfolio."
Millennials Just Ain't What They Used to Be
Arguably, the industry's latest age of experimentation began when brands braced for the arrival of millennials to the marketplace.
However, as chains scuttle to procure all the bells and whistles to lure in this demographic, panelists admitted the line between millennial and seasoned traveler is lately less defined.
"I don't think millennials are looking for anything different than a standard guest."
"I think we all look for human elements and connections to a place. We also don't want tech that distances us from others," Balestrazzi said.
"Just because I'm a seasoned traveler, doesn't mean that I don't want a lot of the same experiential things that a millennial wants," Black said.
Understanding this, the focus of design strategy should be on imagining spaces that cater to a wide variety of customers and increase value outside the guest room.
"At many of our hotels, we're adding coworking spaces. It's all about creating more life and a hub to bring people into our hotels," Mancio said.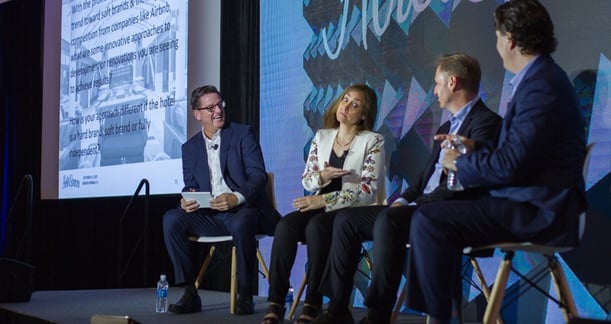 Taking Tech to the Next Level
Thankfully, one aspect of the guest experience seeing less experimentation is technology. While most concepts are gradually discarding complicated iPad-activated room setups, still up for discussion is how to spend technology budgets wisely.
"The biggest hurdle for hotel owners is how to get that return on investment. Technology is moving so rapidly, often it's difficult to figure out what infrastructure will give flexibility into the future," Black said.
With the prolific rise of streaming and portable devices, Ried believes nailing the essentials will pave the way forward.
"We're bringing fiber to the guest rooms. You need to take it to the next level.
"Our guests aren't coming with one device, they're coming with three. If it's a family, then it's 12. They all want to watch Netflix at the same time and they hate any buffering," Ried said.
The Harsh Reality of Development Delays
While there's undeniable growth ahead, keeping up with the onslaught of work to come will prove challenging. The ever-increasing difficulty with long lead items for both construction, as well as FF&E means tightening schedules wherever possible has become a priority.
"In the last decade, we've seen 16-week durations of lead time go to 22 and they're never going back. That's just the standard," Ried said.
Accepting this truth is especially important when setting the tone for relationships with design teams. It's an aspect of the job Ried admits can be difficult to navigate.
"When we have failures in the delivery times, it's usually in the shop drawing process. It's the back and forth between the designers trying to get it "just right" that is slowing it all down," he said.
To condense timeframes, Balestrazzi prescribed honest and open communication between stakeholders from the outset.
"It's about getting in early, working with the owner and their designers. You need to make sure they understand the core essence of the brand and that there's a lot of pain in those schedules," she said.
Construction Constriction
Panelists also warned of rising construction shortages, capable of disrupting not just growth, but also recovery — a frustrating reality hotels have had to deal with in the wake of mother nature's recent wrath.
Compounding things further, Black said the scarcity and cost of labor will only intensify with potential changes to immigration and trade policy. When getting projects off the ground, management needs to lock in reliable locals as early as possible.
"There's so much competition for skilled labor. Sometimes, you need to commit that contractor, and even second tier and third tier subcontractors," Black said. "If you just hire a cost estimator, when you actually bid it later, you'll end up dismayed at how the project went up 20 percent."
Avoiding budgetary blowout means zooming in on a region's DNA and engaging an adaptable game plan.
"The biggest thing is to be flexible and actually know your local market. My focus is across the US and every town is different. Every labor market is different," Ried said.
In fact, adopting such a fluid mentality is a prerequisite for braving the big shifts on their way, in a sector governed by one enduring constant:
"In this industry, everything is changing," Mancio said.
Watch the video below for the full presentation. Enjoy!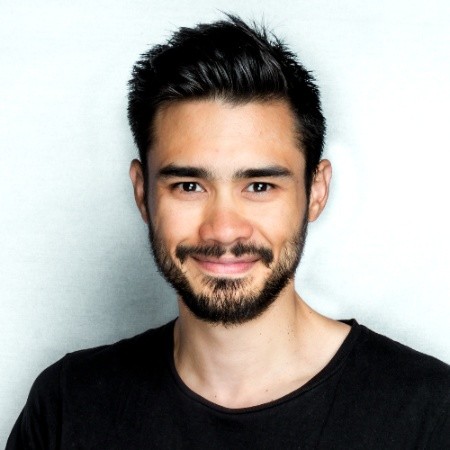 Posted by
Content + event producer with an innate, insatiable curiosity. Fixated on retail, restaurant, and hospitality design.
Join us at HotelSpaces!
A One of a Kind Retreat for Hotel Development, Design & Construction Leaders.
Oct 8-10,2023 | Frisco, TX
Learn More