Hot air balloons, airlines, and spaceships. There's a lot that the Virgin Group has accomplished over the past 50 years – nearly 50 active companies, including (speaking of spaceships) Virgin Galactic.
Here on Earth, one of the Virgin Group's relatively newer businesses is Virgin Hotels. It's been a slow and steady climb for the company since the first Virgin Hotels property opened in Chicago in 2015, with just four others opening since 2020.
But that number is about to, well, balloon. Teddy Mayer, Vice President of Design for Virgin Hotels, sat down with HotelSpaces producer Nicole Rupersburg to talk about all things Virgin Hotels.
Fans of the hotel brand can expect several more Virgin properties to open over the next few years. They won't be flooding the market by any means, but are rather taking a measured, more deliberate approach to growing the Virgin Hotels brand.
"We're looking at opening three to four hotels every year for the next five years. We're playing the long game," Mayer said. "It's quality, not quantity, for us. Richard Branson and the family are really interested in doing things right and creating long-term value for our partners and our guests. And creating an institution in all those cities and neighborhoods that we enter."
Chamber Made
As VP of Design, it's Mayer's job to guide and execute the brand's vision. COVID-19 certainly hasn't made that easy; their three most recent hotels in Nashville, New Orleans, and Las Vegas each opened during the pandemic. Fortunately for them, one of the core components of the Virgin Hotels guest experience dovetailed nicely with COVID-era social distancing efforts.
Virgin calls their guest room products "chambers." Each room has two chambers, with a door separating the sleeping chamber from what they call the "dressing room." Guests enter the dressing room, which has a large closet, vanity, separate toilet room and shower, while a dividing door leads to the sleeping chamber.
The idea to divide the sleeping area from the entrance to the room existed well before COVID-19, an effort to preserve privacy when ordering room service and the like, but it also came in handy during the pandemic, Mayer said, providing an already-built barrier for social distancing efforts.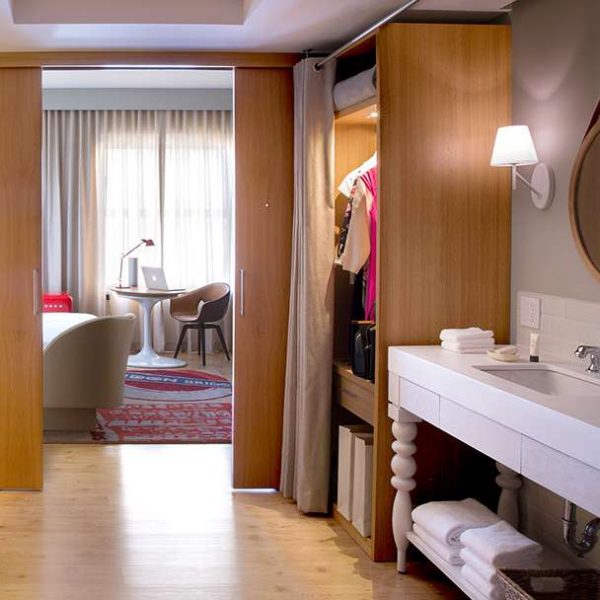 Vanity at Virgin Hotels Chicago
All but one of the Virgin Hotels properties are redevelopments of older buildings thus far, and that does present its own set of challenges. Whether it's retrofitting the 150-year old India Buildings in Edinburgh or the old Hard Rock Hotel and Casino in Las Vegas to become thoroughly modern Virgin Hotels, it can be especially difficult to remain committed to the two-room "chamber" concept when working within the frames of existing buildings. Though in Virgin's desire to avoid anything associated with the word "cookie-cutter," those challenges present new opportunities.
"I don't even know how many room types there are in Edinburgh because that's four or five different old Victorian buildings," Mayer laughed. A new-build addition, however, will allow Virgin to house the bulk of its guest rooms in a modern, modular space. Construction of that property is currently underway.
#VegasProblems
In Las Vegas, Virgin Hotels acquired and redeveloped the old Hard Rock Hotel and Casino, opening the property up to benefit from natural light and an architectural style more in line with its desert surroundings. Even the construction crews were reenergized by its new look, Mayer said.



Virgin Hotels Las Vegas
"The early days of that project, we thought about what it means to be contextual in Las Vegas, so naturally we leaned into the desert. Being a more contemporary brand, we really were inspired by desert-modern architecture and also the road less traveled and what that meant: going on a road trip, driving along the desert highway, the oddities and things you'd see along the way," Mayer said.
"We drew from all of those to create a space that's really light and bright. We added a lot of windows and essentially turned the property inside out because it was very inward-facing before. The result is a very bright and fresh and fun space."
Becoming a Local Institution (And Letting the Good Times Roll)
Contextualizing the Virgin Hotels experience within the cities and neighborhoods in which they're located is a big goal for the group. One of Mayer's favorite examples of that is their New Orleans property, the only new build in their portfolio of hotels. By tapping a local design firm, Virgin was able to create a unique experience that was still "Virgin" but decidedly New Orleanian, too – and, perhaps most importantly, not just a caricature of the city and its distinct culture.
"The best hotels become a part of their community, and that's something we really strive for: to be a new institution, a new go-to place for locals," Mayer said. "Of course, we'll get the business travelers and leisure travelers and we're going to give them a great time and deliver on the expectation that they have of the brand and coming to New Orleans, so that's a given. But to really make a property become an institution, you need that buy-in from the community."
Mayer and the Virgin Hotels team look to take what they learned from projects like the New Orleans property and apply that to their upcoming locations. Future properties include hotels in Edinburgh and Glasgow, Scotland; a flagship hotel in New York City; a Miami project; and more in the works.

Virgin Hotels New Orleans
The still relatively-new company aims to create a recognizable brand without building cookie-cutter properties, where you don't have to relearn the room from one property to the next while still leaving space for plenty of surprises. And when you're in New Orleans, it should feel like you're in New Orleans. Local design firms, artists, and entertainment programming all contribute to that feeling.
Besides the few that have already been announced, Mayer remains tight-lipped about where Virgin Hotels is going next. They choose their locations based on what opportunities will create the most value for their customers and the brand. You have to be open to the opportunities that are out there, he said. And wherever that is, be sure to get the locals involved.
"It's about crafting these experiences at a grassroots level and really propping up start-ups and creatives to add to their communities. I get really excited about that," Mayer said.
"Like with The Late Great speakeasy in Nashville, we worked with Hannah Crowell, who's Johnny Cash's granddaughter. She's a terrific designer in Nashville. It's a little jewel box of a speakeasy there and she's never done a commercial project before, but giving people a chance, that gets me really excited. Aesthetically, you can see the love that goes into it, and the guests really feel that."
Posted by
MJ Galbraith writes about real estate and development for a number of different publications. When he's not writing development news, he's writing songs and playing guitar.
Join us at HotelSpaces!
A One of a Kind Retreat for Hotel Development, Design & Construction Leaders.
Oct 27-29,2024 | Palm Springs, CA
Learn More