It's an exciting time to be in the hotel business. Transaction activity is up 69% year-to-date over 2019, with private equity firms leading the charge alongside REITs. Portfolio activity is rebounding as well, as evidenced by Brookfield's acquisition of Watermark Lodging Trust for an impressive $3.8 billion. But it's not all roses: thanks in part to stalling supply growth and low unemployment, new builds are taking a backseat while renovations move to the front.
In other words, hotel development, design and construction leaders have their plates full. Thankfully, they still had time to sit down for a candid chat at HotelSpaces '22 in Miami. Moderated by David Black, JLL's Managing Director of Project & Development Services for Hotels & Hospitality, the panel featured Brett Cimorelli, VP of Construction & Development Services at Omni Hotels & Resorts; Rado Ivanov, VP of Global Design at Marriott; Carl Mayfield, EVP of Design & Construction at Park Hotels; Christina Zimmer, SVP of Design at Highgate. In a wide-ranging, insightful discussion, they dove into current industry trends, how they stay afloat in volatile times, the growing importance of ESG, and more.
Creating Authentic Guest Experiences
As the industry trends increasingly towards soft brands – with ever-increasing competition from the likes of Airbnb – designers and operators must keep finding new and innovative ways to serve their customers. The panelists weren't too stressed about these pressures, however.
"Airbnb obviously is a force on the market that impacts the entire industry, but at the same time we're talking about two different products," Ivanov said. "I renovated my kitchen; I didn't stop going to restaurants." The modern hotel isn't just a place to spend a night, but a place to have a curated experience, he argued. So long as brands live up to this promise, they'll stand their own against hotel alternatives.
As a designer, Zimmer is thrilled about the proliferation of soft brands, independent brands, and portfolio collections. "I love it because there's a lot more creativity that you can bring to the table, and I think that the guest is also looking for that kind of unique, authentic experience," she said. "Wanting to stay in a place like Boston might be different from how I want to stay if I'm going to visit a resort in Hawaii. Having product that caters to that variation and has that local feel is extremely important and a wonderful evolution in terms of where we are."
Navigating the New Transaction Landscape
Despite other mounting pressures, from cost increases and supply chain issues to market escalation and political instability, hotel transactions are steadily chugging along. "We've got more activity now than we did, probably, pre-pandemic," Cimorelli said.
For Omni, the key is planning years in advance and locking in key partners ahead of time, ensuring projects are ready to hit the ground running when conditions are right. "When we hire an architectural firm to start our projects, we also hire our contractors and usually subcontractors as well," he explained, "getting out in front of that supply chain issue."
Mayfield stressed the importance of starting projects early, assembling quality teams, and developing contingencies. "Our strategy is really to have shelf-ready projects, so when the opportunity presents itself, we're ready," he said, explaining how Park Hotels spent 2020 and 2021 ranking its assets by internal rates of return. "We were able to prioritize them. So when capital presents itself, we're now ready to proceed. And for assets where the returns were really low, those didn't really fit our portfolio. So we sold those."
As for recent M&A activity in the industry, Mayfield was bullish. He drew on Park's recent history to illustrate how consolidation benefits the industry, allowing brands to focus on their assets and create opportunity.
"When we spun out from Hilton, we consumed all of their real estate," he said. "Over the last five years, we've sold over 33 assets for over $2 billion. Those sales were a function of joint ventures, international assets, assets that really weren't compliant, that the entities by themselves couldn't really get to the work. But as a focused, merged entity, we could really get to the work, and I think there's been a lot of value that's been created."
Committing to Sustainability
The panelists agreed that both guests and investors expect hotels to prioritize ESG initiatives. "Everyone needs to have a commitment towards sustainability; I don't think we have a choice not to," Zimmer said. At Highgate, that means an emphasis on renewable energy — solar for its desert properties, other solutions in urban markets — as well as reducing plastics and providing guests with bottle refill stations.



"Everyone needs to have a commitment towards sustainability. We don't have a choice not to."

At Marriott, the company's Serve360 initiative encompasses a broad range of sustainability and social impact programs, including the United Nations' Sustainable Development Goals. One recent example: a commitment to hire 1,500 refugees by 2025 as part of the U.S. Business Summit on Refugees. "That's together with another 40 companies around the country," Ivanov said. "The total commitment is over 20,000 refugees that will be hired by 2025. It goes all the way back to the people and to the communities."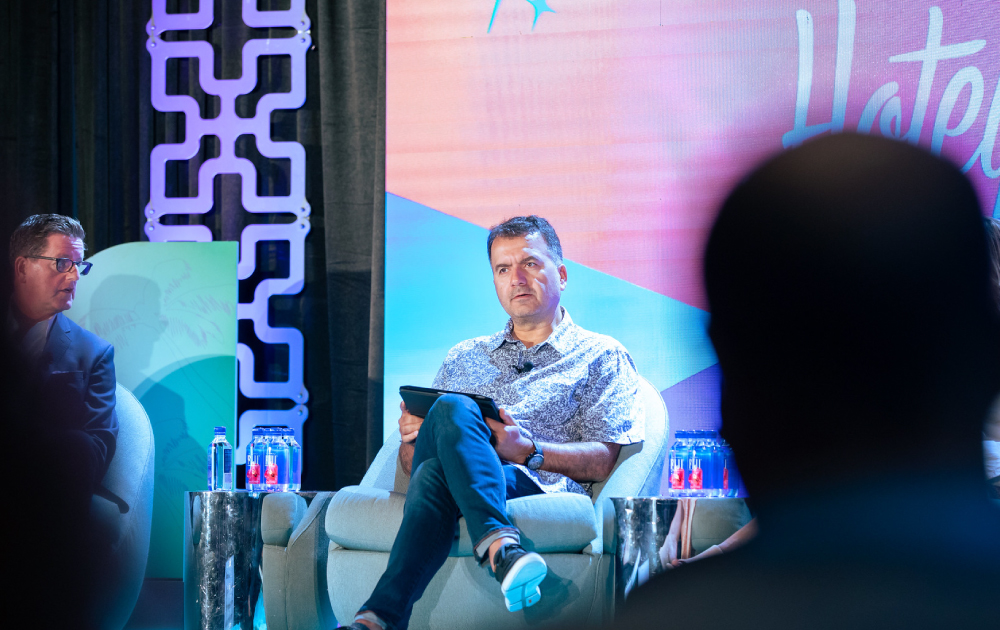 Rado Ivanov, VP of Global Design at Marriott

"ESG is about really driving excellence at the environmental level and at the performance level," Mayfield stressed. Park's ESG initiatives have been at the core of the company's operations since "before it became popular," he added, with $5-$10 million set aside each year for energy improvements. "Every time there's a building system that's going to get replaced, we take the opportunity to take that building system and take it upstream from an efficiency perspective," he said. "We're going to spend the dollars anyway, so it's a matter of taking that premium, underwriting that premium. And then what we have found is that when you buy energy-efficient equipment, it goes right to the bottom line. It goes there quickly."
Park's sustainability efforts speak for themselves. At the Waldorf Casa Marina in Key West, a 750,000-gallon cistern provides for all of the hotel's irrigation. At Hyatt Mission Bay, meanwhile, a routine building audit revealed an opportunity for an LED installation. "That LED project ended up saving approximately 35% kilowatt consumption and reduced our energy consumption by 45%," Mayfield said.
Embracing the Future
The future is full of challenges, few more dire for design and construction leaders than the state of labor. Cimorelli believes the industry can solve this problem with paradigm-shifting technological innovations like prefab. "If you can take what you do in the field and put it in a factory, it cuts down on labor hours tremendously," he said. "Something's got to give at some point. We've gotta figure out how to get more technology into what we do."
New innovations pose their own new challenges, of course. As Ivanov explained, the rapid pace of technological growth makes it difficult for hotels to keep up with guest-facing devices. "We buy new phones every year, but we can't put new technology in the rooms every year," he said.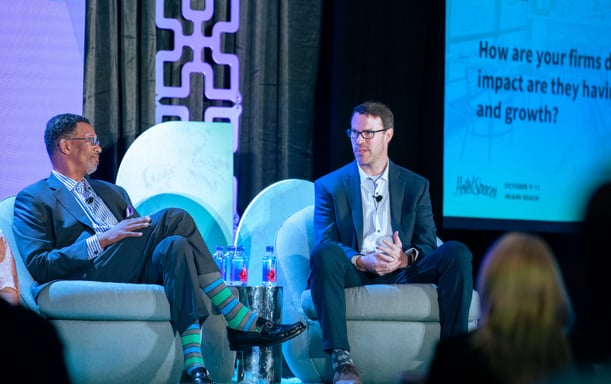 Carl Mayfield (Park Hotels) and Brett Cimorelli (Omni Hotels)

Still, he argued, there's still plenty of room for non-guest-facing tech, like occupancy sensors. "We have to stop heating and cooling empty spaces," he said. "There's technology that's available, it's out there. Nobody should have any excuse for not having motion or occupancy sensors in these spaces and actually reducing those costs and energy use."
In spite of these challenges, the panelists saw much to be optimistic about. Although business travel has been slow to return at Omni, Cimorelli sees promising headwinds in the dollar's strength and the reopening of business in Europe and other global markets.
"The mantra is diversification," Zimmer said, citing Highgate's range of offerings — from its newly opened luxury hotels in New York City and Boston to its resorts in Hawaii and Arizona — as the key to its recent high performance.
Mayfield expects that business travel will pick up as people return to work, driven by the need for connection and collaboration. "People have to bleed blue at a certain level," he said. "In order to do that, you need to reestablish culture. You need to be in person, you need to touch and talk and train."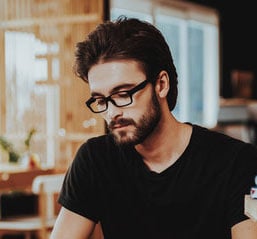 Posted by
Steve Manning is a journalist based in Idaho. When he's not writing, he can usually be found at the theater or taking his dog on a hike. If he could only go to one restaurant for the rest of his life, it would be Al's Place in San Francisco.
Join us at HotelSpaces!
A One of a Kind Retreat for Hotel Development, Design & Construction Leaders.
Oct 8-10,2023 | Frisco, TX
Learn More