Extended stay has become one of the fastest-growing categories in the hospitality industry, largely due to the changes in travel patterns brought on by the pandemic. Travelers are increasingly seeking out longer-term stays, creating a unique opportunity for hoteliers to meet this demand.
At HotelSpaces, Walter Isenberg, CEO of Sage Hospitality, and David Kellam, VP of Architecture Design & Construction at Wyndham, discussed extended stay's future and their approaches to this growing segment, including the ongoing construction challenges of ground-up builds, design considerations, and future development.
Part Multi-Family, Part Lifestyle Hotel
Isenberg described Sage's approach to extended stay as having "one foot in the multi-family business and one foot in the hotel business," creating a lifestyle product that bridges the gap between apartments and traditional extended stays. Sage Hospitality began planning a new type of extended stay in 2017, and the resulting Catbird opened in Denver in August 2021.
"Great timing," he added, drawing a chuckle from the crowd.
Difficult timing aside, Isenberg sees it as a chance to bring something new to the market.


"There's the multi-family market — taking traditional apartments and trying to operate them as hotels. Then there are the traditional branded extended stays that have been around for a long time, like Residence Inn, Homewood Suites, Hyatt House, and Wyndham's products," he said. "So we were looking at those two extremes, these two very different kinds of products, and there was nothing that bridged the two. That was our inspiration."
So what is different about Catbird?
Isenberg said it feels more like a home, but infuses more of the hospitality of a hotel by providing amenities that you might not see in a traditional multi-family location, and better amenities than you would typically see in an extended-stay hotel. Catbird offers traditional apartment amenities as well as Amazon lockers for delivery service, a post office, free laundry, a fitness center, a library, a co-working space, and a playroom that includes bikes, Vespas, fishing gear, and more. They even added a rice cooker at guests' requests.
Sage plans to expand the Catbird nationally and has used its Denver location as a learning experience.
An Economy Extended Stay
On the other side of the extended stay spectrum, Kellam spoke about Wyndham's new economy extended stay brand, ECHO Suites. This project is launching with a four-story, 50,000+ square-foot, 124-room prototype and will cater to long-term extended-stay customers looking for four- to six-week stays.
They're focusing on a different niche market and taking a different approach than Catbird (and many other extended stay concepts), utilizing the knowledge of developers and owner-operators to start from zero and go to prototype in less than a year. Last fall they broke ground on their first ECHO Suites property in Plano, Texas, and currently have 120 projects in the pipeline – making it the fastest-growing brand in Wyndham's portfolio.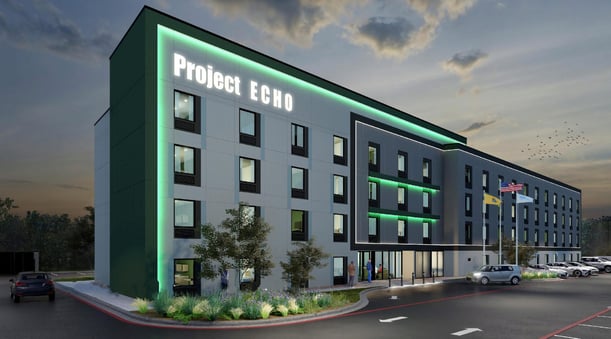 Project ECHO - Rendering
"A box is a box is a box — every hotel having an individual design? This will not be that. You will wake up in Plano and you will wake up in Richmond and think you're in the same place," said Kellam.
The main advantage of ECHO Suites is that it will always be new construction, making it stand out from the competition. And, of course, these hotels will offer a budget-friendly price point for guests, and Wyndham knows that kind of customer and knows how to cater to their needs.
Some of the amenities ECHO Suites will provide include gathering rooms, a fitness center, wired and wireless high-speed internet options, and streaming. However, they are keeping individual properties relatively small, because guests want everything contained within their rooms.
Meetings the Unique Needs of Today's Travelers
Both Isenberg and Kellam spoke about the undersupply in the extended stay market and the significant opportunity it presents for hoteliers. Kellam noted that extended stay had been one of the most underserved segments of the industry for the past 10-15 years. Isenberg sees extended stay as a growing segment, fueled by the trend of remote work and the desire for more flexible living arrangements.
"The pandemic has accelerated what was already happening before," said Isenberg, "and that is this work-from-anywhere opportunity people have. We're seeing at Catbird people who say, 'I work for Google and I'm going to choose to live in Denver for 90 days and just see how it is and live that lifestyle.'"
Kellam also spoke about the importance of meeting the needs of the extended stay customer, which can be particularly challenging in the budget demographic they cater to.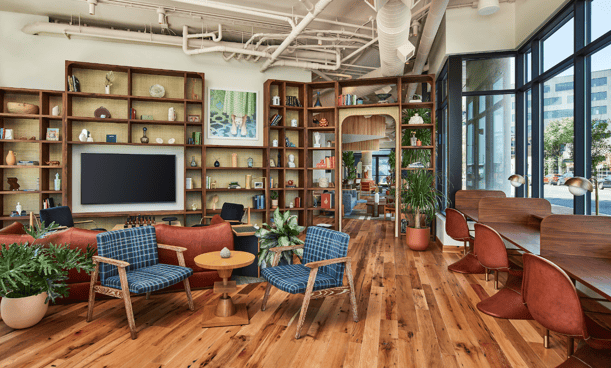 Catbird Hotel - Lobby Den Workstations
"It's easy to spend money on gold fixtures — we can all do that — but it takes a special talent to really nail the outside of the hotel instead of a typical EIFS box," he continued. "We've made an attractive hotel at an economy price point."
Because of Wyndham's size, they were able to leverage better pricing from suppliers to save money and made use of long-term cost-saving products like LED lighting.
"Revenue management has been an interesting exercise with us," added Kellam. "We had as many as 60% of our units on 30+ nights, and we've had some guests who have been with us for over a year. When we look at the branding, we see an interesting mix."
A More Resilient Category
Isenberg shared that Catbird started with a lot of traveling nurses but has since been seeing more business from weddings or small corporate retreats of 8-10 people, plus the work-from-anywhere customer and relocations. On the other hand, Wyndham embraces the traveling nurses in their clientele.


"With extended stay, that segment handles downturns and blips in our economy very well. They're the last to be affected and the first to come out of it."




"We love traveling nurses, and Walter is going to share those with us," Kellam joked. "Typically, you think of extended stay as blue-collar travel, but it really has changed to white-collar and professional travel. With extended stay, that segment handles economic downturns and blips very well. They're the last to be affected and the first to come out of it."
While Sage Hospitality caters to a higher-end market, it still seeks ways to cut costs and simplify ways to meet their operational needs, particularly with labor (given the ongoing difficulties in staffing throughout the hospitality industry).
"Everybody knows that labor markets are difficult and this is an opportunity to build an asset and use technology in an interesting way," said Isenberg. "Obviously, an extended stay guest doesn't need — nor do they want — their room cleaned every day, and so as the labor markets continue to be very difficult for us, that creates a more interesting opportunity for us versus developing a full-service asset."
Kellam agreed, citing the market as being nearly "recession-proof" and set up for low labor usage.
Both executives agree on another thing — the future of extended stays looks bright, with opportunities for hoteliers to meet the evolving needs of travelers seeking longer-term stays in a post-pandemic world.
Join us at HotelSpaces!
A One of a Kind Retreat for Hotel Development, Design & Construction Leaders.
Oct 8-10,2023 | Frisco, TX
Learn More