Lobbies once were the pride of fine hotels, where people of substance gathered to see and be seen. However, over the past few decades, they became "pass through spaces" with a limited function.
Now, the tide is turning.
Hotel communal spaces are assuming greater importance both as revenue-generating social focal points and, perhaps more significantly, workspaces for both business travelers and 'solopreneurs' looking for an attractive, comfortable space where they can both focus (when they need to be alone) and meet with clients.
To accommodate this shift in priorities, many hotels -- especially brands that cater to millennials -- are building properties with smaller rooms, complemented by expansive lobbies of 3,000 sq. ft. or more. These communal spaces are designed to accommodate solo workers, small meetings and business lunches and then transition into social/leisure spaces after dark.
Quiet, Please (but not too quiet)
Hotels are removing larger desks from their rooms because more business travelers want to take their laptops and work in the lobby, seeking to be "alone with others," rather than isolated. Lobbies now feature furniture with power jacks and built-in USB charging stations.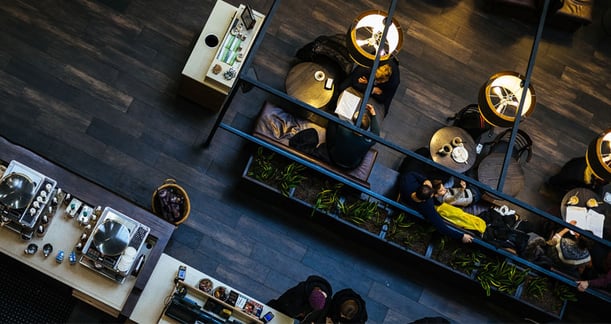 This room-to-lobby transition shouldn't be surprising, nor should the growing commercial demand for communal workspace. It reflects changes that have been happening over the past few decades; more employees are working remotely (often choosing to spend time in Starbuck's and similar coffee shops) while open workspaces have replaced cubicles in many brick and mortar offices.
Hotels feature lounge areas resembling quiet library nooks (for distraction-free concentration) and open spaces for connecting with others. Meanwhile, as communal spaces expand, the average hotel room is shrinking, with many millennial-focused brands (like Marriott's MOXY) offering rooms in the 150-200 sq. ft. range. Though small and spare, these rooms often feature great Wi-Fi and multiple outlets.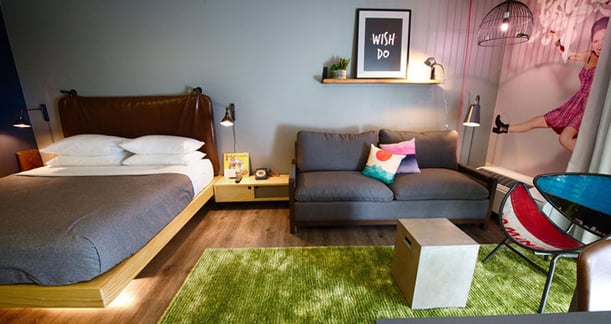 Diverse Brands Emphasize Larger Spaces
While some spaces are almost all work, communal spaces at numerous hotels are offering a tempting mix of business and pleasure. Lobbies are becoming social focus points again, sometimes with a few twists. Trendy hotels attract people who may choose to work there during the day and then socialize there at night, even if they're not actually guests of the hotel. Case in point—hotel impresario Ian Schrager's Public (215 Chrystie St. NYC) attracts a mixture of stylish tourists, students and local business people, all of whom flock to its lobby ("the fastest Wi-Fi in the city") to both be seen and get some work done.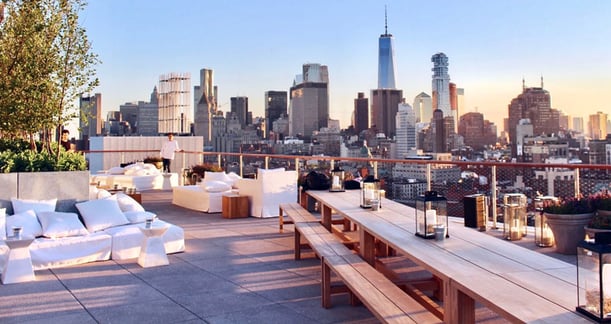 Part of a growing trend, Public has eliminated check-in desks, with all of these functions handled on an i-Pad.
Even more traditional brands are getting in on the expanded-lobby trend. First introduced in 2013 and growing, Holiday Inn's new open lobby features a restaurant, bar, salon, gaming/relaxation areas and business center in an open and coherent space, while refreshing the design to give it a more contemporary appearance.
Also popular with business travelers, Hilton's hipper Tru Hotels feature rooms at just over 200 sq. ft., but with expanded lobby areas (called "The Hive") offering big screen TVs, swing chairs and free breakfast bar.
Highlighting Flexibility
Brands are emphasizing flexibility of use throughout their communal spaces, with open areas that can be partitioned complemented by movable furniture suited for use by individuals and even larger groups.
Marriott's innovative, eco-conscious Element brand is addressing the demands of leisure and business travelers. Incorporating flowing layouts inspired by urban dwellings, its communal room offerings span a variety of customer bases, from families to large parties to business people traveling together who need private space in which to collaborate. More than 30 Element Hotels should be open by the end of 2017.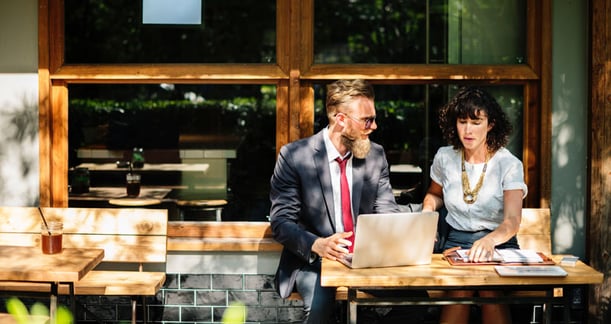 Coworking Space for Rent
With more freelancers, independent contractors, small business entrepreneurs and corporate employees who work remotely in urban areas, WeWork and other coworking spaces are filling an ever growing need.
Now, hotels are co-opting their success, offering business workspace not only for guests, but also for local business people who rent out workspace in their lobbies and other sections of the hotels.
An increasing number of properties are designating co-working spaces, charging monthly membership fees and offering benefits and amenities, including HDTV monitors, top-drawer Wi-Fi, free wireless printing and discounts to the property's restaurants and bars. A great example is Virgin Hotels Chicago, which has added a "The Commons Co-Op," 2,600 sq. ft. of 'nontraditional' co-working space in a lounge on its second floor at its flagship property in the Loop. The Commons features communal tables, couches, bar seatings and private meeting spaces.
A Future Filled With Cotels?
With initial locations in New York and San Francisco, WeWork has spawned WeLive, which combines the communal work aspects of WeWork in buildings featuring small apartments available on short and longer-term leases, augmented by communal kitchens, roof decks and hot tubs, challenging "traditional apartment living through physical spaces that foster meaningful relationships," in the words of WeLive's marketers.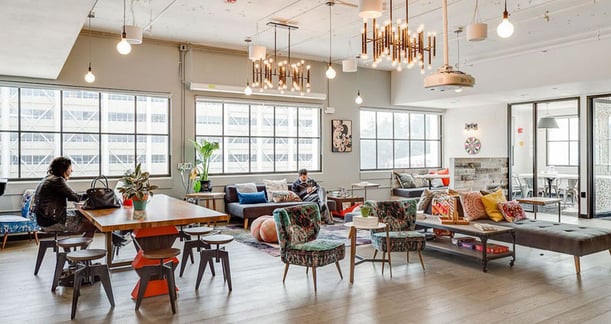 Having carved out a sizable niche in leisure travel, San Francisco-based Airbnb is expanding its shared apartment space model to the business arena, actively marketing spaces that are "business travel ready" – houses and apartments with strong Wi-Fi and laptop-ready workspaces convenient to business districts.
Meanwhile, developers are eager to add the term "Cotel" to the lexicon, with the first such project in the works in New York. 17John, in the financial district, is a collaboration between innovation consulting firm PSFK and the real estate crowdfunding company Prodigy Network. This hotel will incorporate communal space ideas assembled during a public design competition, which will last throughout 2017.
For additional insights on the future of communal spaces, download our ''Innovations in Hotel Design & Construction - The Next Decade and Beyond'' special report.
*in the words of Marriott International's Noah Silverman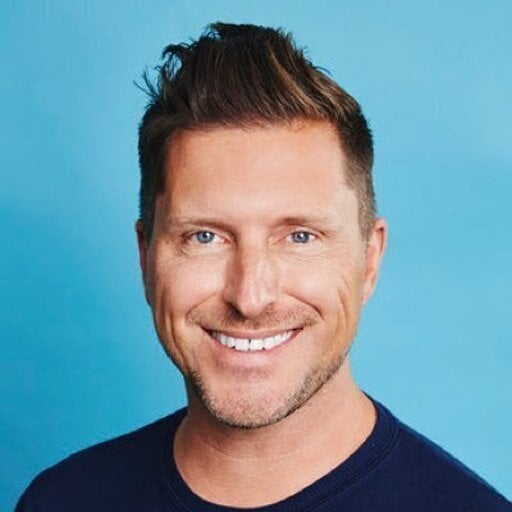 Posted by
Michael P. Owens is Co-Founder + Managing Partner of influence group, a leading producer of content and events in real estate, technology, design and construction.
Join us at HotelSpaces!
A One of a Kind Retreat for Hotel Development, Design & Construction Leaders.
Oct 8-10,2023 | Frisco, TX
Learn More