Where do we go from here? That's the topic on every hospitality executive's mind right now...still...and the focus of a Town Hall discussion at HotelSpaces. Michael Owens, Executive Producer of HotelSpaces, moderated the discussion featuring Randy Gaines, Senior Vice President of Operations and New Hotel Openings for Hilton; Mark Boekenheide, SVP, Global Real Estate Development for Sands; and Menno Hilberts, Managing Director, Design & Construction for citizenM.
When Owens turned to the audience to ask them what the biggest issues facing the hospitality industry today are, their answers came as no surprise: labor shortages and supply chain delays. And while these are issues that have impacted nearly every industry throughout the pandemic, they pose some very specific problems – and solutions – for the hospitality sector.
Solutions to Supply Chain Issues
Hilberts put it plainly in his response: Transparency is key.
"I think we just have to weather the storm. It's a pendulum that goes from supply to demand and that's going to balance out – whether that's in six months or 16 or 24, I don't know. Nobody knows," Hilberts said. "My only advice to the suppliers and the contractors out there is simple: Do as you say and say as you do. Just communicate. Be upfront about it."
In order for the hospitality industry to push through the current supply chain and labor issues, each level of the supply chain needs to be communicating with each other so that realistic expectations can be set and met. And if there is an issue, clear lines of communication can give hospitality groups time to pivot.
Gaines agreed, saying that hospitality companies can use that time to get creative with finding solutions. If they can't get linens from China, he said, turn to Guatemala, to Mexico. More expensive suppliers in the United States are even becoming attractive options, bypassing the jammed-up international ports altogether.
"Ultimately, in the States, we've had to lean into some suppliers and I don't think that's going to go away. And I actually like it," said Gaines. "I think it's good to keep it in our home country."
It's not just projects in the United States that are faced with these issues. Boekenheide has massive projects in Macau and Singapore, places with COVID-related labor shortages, supply chain issues, and government-mandated shutdowns of their own. But for Boekenheide, Sands generates the vast majority of its income from gaming, putting urgency on getting the gaming machines delivered, set up, and running.
"We're doing 3,000 rooms at a time — and that's a small hotel by Vegas standards," Boekenheide said. "So how do you deliver something that's 2.5 or 3 million square feet as quickly as possible? If I can take a project that is going to take 42 months and I can condense that to 32 months, that is a huge amount of revenue that we're generating early."
Build New Better
Design-build practices present one solution, Boekenheide believes. Another is owners controlling their own impulses to constantly change and modify projects throughout the process. And while modular building practices don't suit the scale of his own projects, Boekenheide said that incorporating more prefabricated elements into projects could help speed things up. Even some local governments are now requiring prefabricated elements for construction projects, a reaction to their own labor shortages.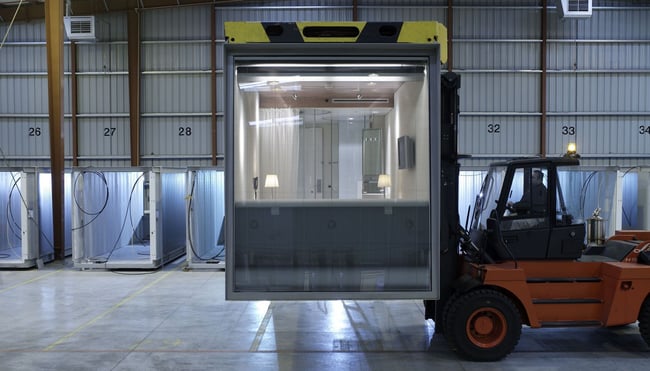 Photo credit: citizenM


For Hilberts, modular construction practices are built into citizenM's DNA. He said that the practice is still ten years away from fixing all of the problems presented, although it's getting there. Working in the modular space brings the owner, architect, and builder together, often saving time and money. Challenges remain, including in financing and navigating local municipality codes; but as Danny Forster, an expert in modular design himself, said from the audience, while modular isn't yet the silver bullet that the industry is searching for, the practice offers a promising future.
Don't Lose Focus on the Guest Experience
As the industry adapts its building methods to a changing world, it's the guests themselves that are perhaps the biggest drivers of change. Guests are being more deliberate in where they choose to stay, said Hilberts, and hotels are therefore going to need to be more deliberate in the products that they provide. Gaines agreed, saying that promotions like rewards and points clubs are becoming less and less relevant; that guests' loyalties are increasingly becoming tied to the experiences provided them.
That's tough when so many of the services typically provided by hotels were rolled back during the height of the pandemic and have been slow to return. Guests are paying more and receiving less right now, the panel agreed.
"I've been surprised by how little you get when you buy a guest room now. I've been in a hotel that had no bottled water in the room. You can't get room service or daily housekeeping service in a lot of hotels," Boekenheide said.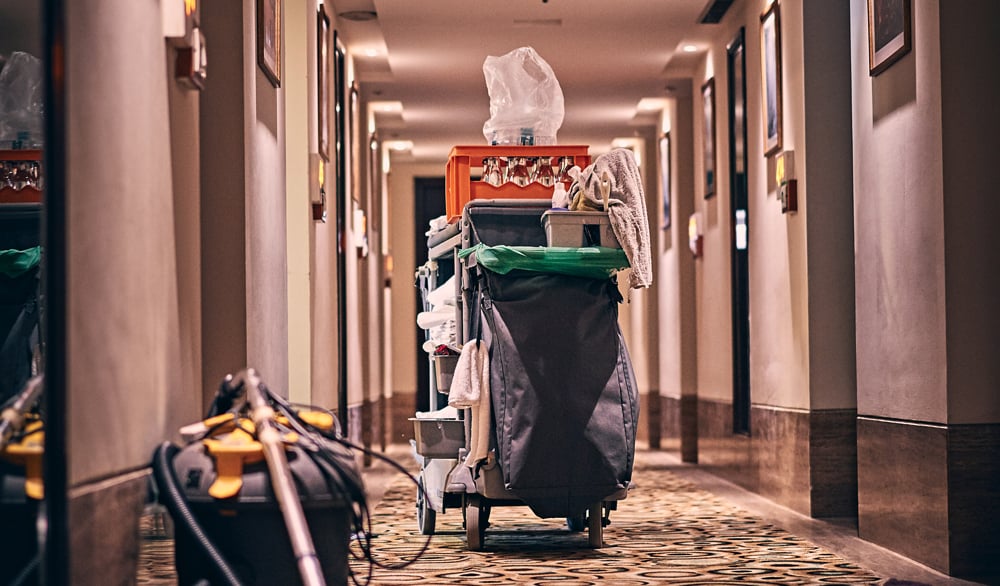 Housekeeping - Photo by Ashwini Chaudhary

He continued: "My fear is that it's going to be the new norm going forward and it's going to be like flying on Allegiant Airlines: You get a cheap ticket but if you want to pick the seat, it costs extra. You want to check your bag, it costs extra. You want to do this or that, it costs extra. Is that what's going to happen in the hotel industry? That all these things we used to take for granted will be offered a la carte at an additional charge?"
What's happening at companies like Hilton, Gaines said, is that those services are being layered back thoughtfully and in a way that makes sense for today's world. Maybe housekeeping won't be offered daily by default, but perhaps guests can request their rooms to be cleaned by accessing a smartphone app. It's a way to mitigate issues like the labor shortage in housekeeping, he said. Robotic vacuums might even be an answer.
The Future is Bright
Despite the challenges facing the hospitality industry today, each member of the panel remains optimistic about its future. Boekenheide said Sands is working to diversify their locations, pursuing new opportunities. CitizenM is looking to stand out from the pack by being deliberate in the products that they offer; being middle-of-the-road just doesn't work anymore, Hilberts said. And Hilton is expanding their portfolio, pursuing all-inclusive resorts for the first time, for example.
"The future is bright. I love it," Gaines said. "Think about it. We've been through SARS, we've been through 9/11. If we keep a steady hand on the wheel, we always make it through. It always comes back."
Posted by
MJ Galbraith writes about real estate and development for a number of different publications. When he's not writing development news, he's writing songs and playing guitar.
Join us at HotelSpaces!
A One of a Kind Retreat for Hotel Development, Design & Construction Leaders.
Oct 8-10,2023 | Frisco, TX
Learn More